Pakistan has agreed to reopen NATO supply routes into Afghanistan which it had closed following a US airstrike that killed 24 of its soldiers last November.
The decision came at a meeting of Pakistan's Defence Committee of the Cabinet, which includes senior military and government officials. This followed a statement issued by US Secretary of State Hillary Clinton.
"I offered our sincere condolences to the families of the Pakistani soldiers who lost their lives," Clinton said.
"Foreign Minister Khar and I acknowledged the mistakes that resulted in the loss of Pakistani military lives. We are sorry for the losses suffered by the Pakistani military," the statement added.
While the statement did not constitute a formal apology, it was the closest the administration of US President Barack Obama has come to doing so.
Pakistan's ambassador to the United States expressed appreciation for Clinton's statement, saying he hoped that "bilateral ties can move to a better place from here."
NATO member nations with soldiers serving in Afghanistan as part of the International Security Assistance Force (ISAF) had been keen to get the route through Pakistan reopened because using alternative routes to bring in supplies costs more than twice as much.
The goal of withdrawing most of the remaining NATO troops from Afghainstan by the end of 2014 made reopening the routes an even more pressing matter.
German defense minister visits
Earlier on Tuesday, Germany's defense minister, Thomas de Maiziere highlighted this problem during an unannounced visit to Kunduz in the north of Afghanistan.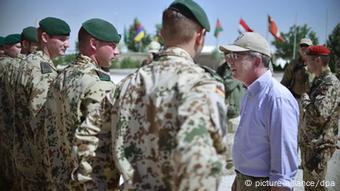 De Maiziere was cautiously optimistic about the security situation
Speaking to Bundeswehr soldiers before the agreement to reopen the supply routes through Pakistan was announced, de Maiziere said that Germany's defense department had been working on plans to withdraw troops and hardware by air or via the north. He described that plan as being "logistically… complicated."
German forces began preparing for their withdrawal from Afghanistan at the start of the year. The number or Bundeswehr troops stationed in the country is already down to around 4,800 from a peak deployment of 5,350.
De Maiziere, who was making his seventh visit to Afghanistan since taking over the defense portfolio 16 months ago, expressed cautious optimism about the security situation as German troops prepare to leave the country, pointing to a drop in the number of attacks over the past two years.
"We're roughly at the level we saw in 2009. It's not what we'd call a stable security situation, let's face it, but it's progress nevertheless," de Maiziere said.
pfd/ng (Reuters, AP, AFP)