French mountaineer Elisabeth Revol was flown with frostbite to a hospital in Islamabad on Sunday as her rescuers admitted it was "not possible" to save Polish climber Tomek Mackiewicz from Pakistan's Nanga Parbat peak.
"We are in deep sadness. All our thoughts go out to Tomek's family and friends. We are crying," wrote a friend of Revol, Ludovic Giambiasi, on Facebook.
Read more: French climber Elisabeth Revol rescued by Polish team from Nanga Parbat peak
Machiewicz and Revol raised the alarm on Friday, prompting what Pakistani climber Karim Shad said was an unprecedented rescue bid by four volunteer Polish rescuers belonging to a separate expedition.
In complete darkness the four ascended 1,200 meters (3,940 feet) without a fixed rope to Nanga Parbat's 6,700 meter level to pluck Revol to safety and evacuate her with Pakistani helicopter assistance on Sunday.
"No one did such a climb before, Shad said."Most people, it takes two or three days, and they did it in eight hours in the darkness."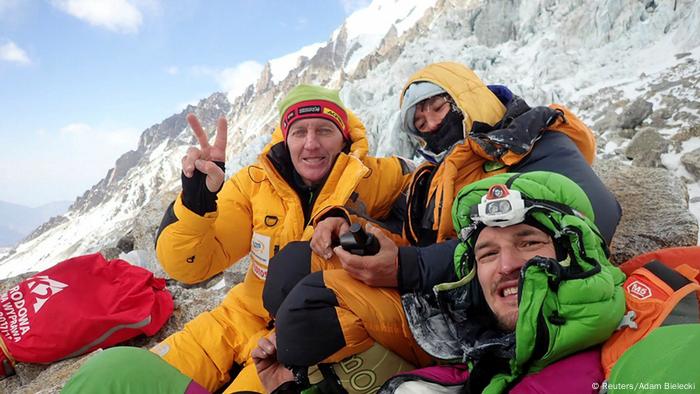 Revol and her Polish climbing companion, Tomasz Mackiewicz, had called for help on a satellite phone on Friday from 7,400 meters up the mountain
Crawling on the peak
Pakistan Alpine Federation top official Karrar Haidri said rough weather had prevented the quartet from also reaching Mackiewicz who had been spotted crawling while Revol attempted to climb down.
An online campaign to "crowdfund" the rescue bid for Revol and Machiewicz reportedly raised some 112,000 euros ($140,000).
Nanga Parbat, in northern Pakistan, is the world's ninth-highest peak at 8,125 meters (26,600 feet).
Since a first successful climb in 1953, more than 30 climbers have died trying to climb it, including a Spaniard and an Argentinian lost, presumed dead last year.
The four volunteer Polish rescuers are still seeking to become the to climb K2, the world's second highest peak, in winter.
ipj/aw (AP, AFP, Reuters)