After years of mutual grievance over defense spending, trade and more, the pandemic made clear just how bad relations between the United States and Europe had become. But it also made clear another reality: that transatlantic cooperation is essential to finding effective solutions to shared challenges -- for both sides of the Atlantic and for the world.   
That was the conclusion of a transatlantic task force, organized by the German Marshall Fund of the United States and the Bundeskanzler-Helmut-Schmidt-Stiftung, that I co-chaired with Wolfgang Ischinger, Chair of the Munich Security Conference. Following deliberations with a diverse set of 14 task force members from both sides of the Atlantic, we proposed a spectrum of concrete policy recommendations in response to six challenges critical to our shared future: Pandemics, economic recovery, climate, China, technology, and security. These are issues that transcend national borders. These challenges cannot be successfully dealt with alone. They can only be resolved through sustained and cooperative international action.
However, publics on both sides of the Atlantic are skeptical. Only if the United States and Europe can demonstrate through effective action that we are better off moving forward together can we begin to turn around the public's skepticism and disenchantment with political leaders and with each other. Many Europeans, disillusioned with the United States and its leadership, desire greater military, technological, and economic autonomy. In the United States, supporters of President Trump share his view that the United States has long been taken advantage of by its European allies.
In making the case for how we can overcome transatlantic division, let me share some examples from the 36 overall recommendations. On pandemics, COVID-19 has made crystal clear that a germ can kill as easily as a bullet. One action we could take would be creating a joint stockpile of medical supplies and medicines to respond to inevitable future public health emergencies.
On economic revival, we recommend, for example, that the United States and Europe set a firm and achievable timetable to conclude deliberations in the Organization for Economic Cooperation and Development on the nature and degree of digital and international corporate taxation. Such a step is particularly important to avoid friction as recession-strapped governments look for new sources of revenue.
On climate, one opportunity we identified was increasing subnational climate cooperation. U.S. and European cities, American states, and other subnational entities should boost their local-level cooperation with non-state actors and the private sector, sharing experience and goals in areas ranging from decarbonizing electrical grids through large-scale renewable power generation to improving energy efficiency in buildings.
On China, the United States and Europe should agree to reciprocity of opportunity as the organizing principle in relations with China in terms of market access, investment, and protection of intellectual property, among other things. Such insistence on reciprocity must be backed by concerted action when it is not forthcoming.
On technology, Europe and the United States have long been technological rivals, as well as partners. But the competitive dynamics are shifting. China has become a major player in the global tech game; neither Americans nor Europeans have the resources to prevail against such competition on their own. One of our recommendations would be to provide greater financial and regulatory incentives for transatlantic science and technology partnerships, including pre-competitive cooperation on research and development for emerging technologies.
On security, one issue that caught our attention was better aligning our approach to Russia. The United States and its NATO partners should establish the parameters, goals, and timing of any mutual reengagement with Russia and articulate clearly the preconditions needed from Moscow to justify that effort. One possible mechanism for achieving this goal could be an annual joint assessment of Russia policy by the NATO secretary general and the EU high representative for foreign affairs and security policy.
We made these recommendations not because they are easy to implement, but because they represent practical initiatives to help address key issues we face. It is up to us whether we want to face these global challenges together or alone.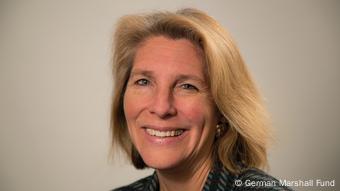 Dr. Karen Donfried is president of the German Marshall Fund of the United States (GMF), a non-profit organization dedicated to strengthening transatlantic cooperation through policy analysis, fellowships for next generation leaders, and support for civil society. Before assuming this position in April 2014, Donfried was special assistant to the president and senior director for European affairs on the National Security Council. Prior to that, she served on the National Intelligence Council, the State Department's Policy Planning Staff, and at the Congressional Research Service.