The 96-year-old Gröning was sentenced in 2015 as an accessory to the murders of at least 300,000 Hungarian Jews between May and July 1944. Three years before, in 1941, he had volunteered for the SS when he was a 20-year-old bank clerk.
Gröning collected the valuables found in the luggage and clothes of prisoners when they arrived at the Nazi-German Auschwitz-Birkenau camp located in what is now southern Poland. His record keeping earned him the name "Bookkeeper of Auschwitz."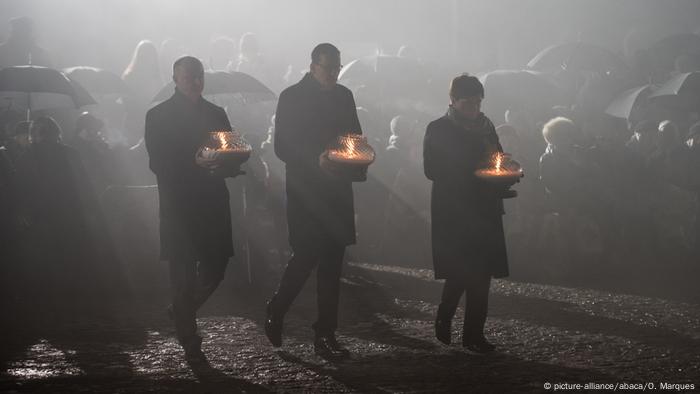 Memorial service at the International Monument to the Victims of Fascism
"It is without question that I am morally complicit in the murder of millions of Jews through my activities at Auschwitz," Gröning said at his trial. "Before the victims, I also admit to this moral guilt here, with regret and humility."
His appeal to Lower Saxony's justice minister, Barbara Havliza, a member of the conservative Christian Democratic Union (CDU) is the final legal step available to him in obtaining a pardon.
A ministry spokesperson said on Thursday that Havliza would make her decision in due time, adding that there were no special legal requirements on her and no time limit in making the decision which would have no effect on the conviction.
Previous refusal
In mid-January, the prosecutor's office in Lüneburg rejected Gröning's petition for a pardon. His lawyer had argued in favor of an amnesty because of Gröning's age and frail health.
Speaking after the Constitutional Court decision to uphold the conviction taken in December, a court spokeswoman said Gröning would be called on to start his sentence, which "carried a special weight" because of the nature of the crimes.
His term is to be served at the Uelzen prison in northern Germany, near Hamburg.
jm/rc (epd, dpa)
Each evening at 1830 UTC, DW's editors send out a selection of the day's hard news and quality feature journalism. You can sign up to receive it directly here.