"I am urging the Bangladesh Nationalist Party (BNP) leader to stop these bomb and grenade attacks - these acts of sabotage and killings, of arson and damage to property," Hasina said in a televised speech to the nation on the first anniversary of the parliamentary elections on Monday.
The controversial vote, held on January 5, 2014, was boycotted by the main opposition parties, including the BNP, which gave the Prime Minister Hasina another five-year term.
Violence broke out in the capital Dhaka on Monday after the government confined Khaleda Zia to her office, putting her under a police siege ahead of the election anniversary.
Zia, a two-time former premier, had called on her party workers to hold nationwide demonstrations to pressure the incumbent Awami League government to hold fresh elections.
"The path you (the opposition) are following will not bring any benefit for the people. Instead, you will lose public faith and confidence," Hasina said, accusing the 20-party opposition alliance of trying to create "anarchy and instability" in the south Asian country.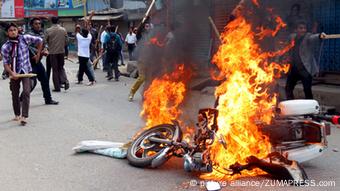 Opposition has vowed to continue protests
Zia's party is allied with the Islamist Jamaat-e-Islami (JI) party, which has seen a number of its top leaders sentenced to death by a special tribunal on charges of war crimes during Bangladesh's fight for independence from Pakistan in 1971. JI is also aiming to topple Hasina's government.
"We want to come out of the vicious circle of unhealthy politics," the PM said, adding that the opposition had made a "political blunder" by boycotting the 2014 polls. "Why should the people pay for that mistake?" she asked.
More agitation ahead
But Zia has vowed to continue with protests, saying her supporters will block roads and public transport on Tuesday.
"This government is illegal because it was not elected by the people. They sprayed pepper at us. It is not a normal situation. Is the country facing a war?" said Zia, calling the government "illegal" and urging the masses to take part in demonstrations.
"The protests will continue... No dictator can cling onto power like this," she added.
Deadly clashes
According to the police, at least four protesters were shot dead during clashes with the security forces and members of the ruling party on Monday.
Earlier, two unknown gunmen fired shots on the BNP's student wing activists, killing two people, according to local leader Aminul Haque.
"Both are from the BNP, who joined a protest outside Natore. Both were shot dead during clashes with Awami League supporters," Mohammad Fariduddin, a police inspector in the northern town of Natore, told the news agency AFP. At least 15 people were injured in the clashes, he added.
Scuffles had also broken out near Zia's office on Sunday when a former president, Badruddoza Chowdhury, was denied entry after trying to meet with Zia.
shs/bw (AFP, AP, Reuters)