When foreign football supporters visit Manchester for Champions League games, they tend to gather in an area of the city known locally as Shambles Square.
The word "shambles" originally referred to a street of butchers' shops where livestock was slaughtered and carved up. In modern parlance, a "shambles" is a disorderly, uncoordinated, hopeless mess.
Apt then, that many of the 4,000 traveling Schalke fans also chose to meet there ahead of a performance from their team which merited the word "shambles" in both senses.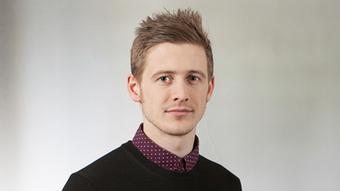 DW's Matt Ford
The 3-2 defeat in the first leg of the Champions League last-16 tie, despite leading 2-1 against ten men with five minutes to play, was still somewhat understandable. This was Manchester City, after all. And Leroy Sané's free-kick was brilliant. But it was still Schalke's best performance this season. Perhaps a corner could be turned.
Or, perhaps not. The subsequent 3-0 defeat away at Mainz was dire. Losing 4-0 at home to Fortuna Düsseldorf was inexcusable – although Domenico Tedesco tried his best, hands held upwards and palms turned outwards, begging for forgiveness from the Schalke ultras.
The performance may have been marginally better away at Werder Bremen but a fragile Schalke still conceded four.
The 7-0 humiliation on Tuesday evening however, the biggest loss ever suffered by a German side in the Champions League, defies description. But we'll try. It was meek. It was embarrassing. It was an insult to those traveling supporters and to all associated with FC Schalke 04.
It was a shambles.
So where do Schalke go from here?
First of all, the problems cannot and should not be judged on a thrashing by Manchester City alone, a club bankrolled by a sovereign state and which possesses some of the best players in the world. City Football Group isn't Schalke's problem.
But the sight of Steven Skrzybski and Cedric Teuchert, second-division players last season with Union Berlin and Nuremberg respectively, coming on in the second half, is Schalke's problem, and there have already been consequences.
The acceptance of sporting director Christian Heidel's resignation was both an acknowledgement that the club has failed in the transfer market and simultaneously a tacit vote of trust in Tedesco.
But do the players still have confidence in Tedesco? The pathetic excuse for a performance in Manchester suggests not. Should Tedesco still have any confidence in his players after "the biggest collapse in performance I have ever experienced during my time as a coach"? No, he should not.
"Of course I don't feel well," said the visibly demoralized 33-year-old post-match. "After the first goal we stopped believing, and that's unacceptable."
As things stand, he will still take charge of Schalke's home game against RB Leipzig this weekend, but Tedesco looked like a man who may finally have given up, the slow recognition that the problems at Schalke are far too big for one young coach to solve.
The whole club is a shambles. A hopeless mess. Carve it up and start again.