Centrist Emmanuel Macron, who launched his own "En Marche" ("Forward" or "On the Move") political group, was still leading in the most recent Cevipof opinion poll published on Wednesday, with 23 percent support for the first round. Close behind him was far-right National Front (FN) leader Marine Le Pen, at 22.5 percent.
Conservative Francois Fillon and far-left candidate Jean-Luc Melenchon remained in contention with a chance of reaching the second round, partly because of the large number of voters who told pollsters they had not yet made up their minds. The unusual development means the four candidates have hopes of reaching the second round run-off in May.
The pro-Europe Macron continued his appeal on Wednesday via social media and with a rally in the western city of Nantes.
Le Pen has pressed her anti-immigration, anti-globalization message with plans to take France out of the European Union and the euro currency zone. She held her final rally of the campaign in Marseille, where there was tight security after police uncovered evidence of a planned terror attack earlier this week.
The Cevipof poll of 11,601 people showed first round support for Le Pen has fallen 2.5 percentage points since early April, while support for Macron has dropped 2 points.
The daily survey by Opinionway gave similar projections to Cevipof for the top candidates and projected Macron would beat Le Pen in the May 7 second round by 65 percent to 35 percent.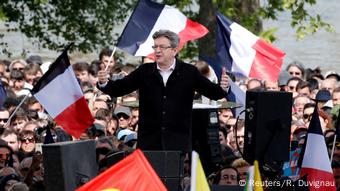 Melenchon's promises to tax the rich and renegotiate France's role in the EU have attracted voters
Still a chance
Earlier Wednesday, Fillon - a former prime minister - received some last-minute public endorsements from former President Nicolas Sarkozy and former Prime Minister Alain Juppe.
Fillon beat both of them in the primary vote to stand for the Republicans party, but his campaign has been hit by a series of allegations and charges of financial irregularities during his time as a government official and minister. Nevertheless, Wednesday's Cevipof poll showed Fillon close behind the front-runners with 19.5 percent support.
Support for far-left candidate Melenchon and his far-left France insoumise alliance - which can be translated as "Unbowed France" - was at 19 percent, according to the Cevipof poll. After a good showing in television debates and at rallies, his promises to tax the rich and renegotiate France's role in the EU and trade deals have attracted voters who have rejected the Socialist party, led by candidate Benoit Hamon.
The 65-year-old Melenchon has eased his campaign of attack against the euro currency in the last days of the campaign but confirmed his role as defender of French workers. He has the support of the traditional Communist party.
Melenchon began his campaign at the start of the year with opinion polls showing about 15 percent support. They dropped to about 12 percent, before rising steadily from mid-March to his current 19 percent.
Indecision and abstention
More than a quarter of French voters are still undecided, with pollsters suggesting abstention could be higher than usual.
Benoit Hamon, candidate for the Socialists - the party of current President Francois Hollande - held a final, festive and musical rally in Paris at the Place de la Republique. Hamon said he would fight for "Liberty, Equality and Fraternity" and spent 15 minutes talking to supporters in the crowd after his speech. Support in the opinion polls for Hamon hasn't risen to more than 12.5 percent, and he went into this final campaign week with just 8.5 percent.
Cevipof is the center of political research of Sciences Po, the Paris Institute of Political Studies, a university in the French capital.
However, with so many voters undecided and the traditional role of the Socialists not being played out this year, the result of Sunday's election is still too close to call.
jm/cmk (AFP, Reuters)