All eyes are on Germany, now more than ever. Most look on with admiration and appreciation. Some wonder, somewhat jealously, how Germany manages to maintain stability in light of so many challenges and problems. Others fear its renewed rise to power at the heart of Europe.
Germany and its chancellor, Angela Merkel, are simultaneously viewed as the EU's last hope and accused of foisting its own rules on Europe for its sole gain as export king and economic wunderkind.
Act of kindness or downfall of the Occident?
Depending on where I am in the world, I encounter people who either view Germany's welcoming of over one million refugees as an act of kindness or angrily blame it for the end of a Christian Europe.
It is with this split sentiment in mind that we at DW look toward the upcoming election campaign. Germany will vote for a new parliament on September 24. As Germany's international broadcaster, we want to focus the increased attention on what is happening in the country.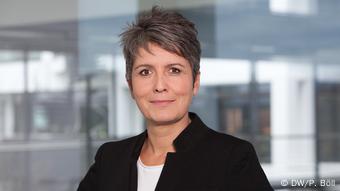 Ines Pohl is DW's editor-in-chief
What is it that makes Germans by and large satisfied with the country's current course? What causes others to fear the future and feel they are raising their children in a country that no longer resembles the one they envisioned? Is Germany really ready to be a country of immigrants? Or is the electoral success of right-wing populists evidence that the government is leading Germany in a direction that many voters are not comfortable with?
Additionally, we will explain the causes of Germany's economic success, how the German education system works and what makes it different. We will profile our political leadership, in particular Angela Merkel, a phenomenon and one of the world's most well-known personalities, who is up for a fourth term as chancellor.
More questions abound: What can we expect from our politicians and what direction will foreign policy take? How important are alliances and especially NATO? Who supports development and who military spending? How does Germany view its role within the European Union?
#AskDW: Send us your questions
With everything we do, we want it to be in close exchange with you, our readers, viewers and listeners. With the hashtag, #AskDW, our correspondents will answer your questions. Get involved! We want to know what you want to find out.
As we head into the campaign season, we want to be a platform in constant conversation with the world. How do you see Germany? What role should it play on the issues of security, NATO and the EU? What are your hopes for our next government? What are your fears? What common German strengths and weaknesses do you see?
To view our election content, look for the #GermanyDecides hashtag on Twitter, Facebook and DW TV. You can also follow our 2017 elections coverage on our #GermanyDecides page where our global network of reporters and editorial staff from Bonn and Berlin explain the big issues and the latest developments in the 2017 elections through September 24.
We look forward to hearing from you.