A 34-year-old woman died from her wounds in a hospital on Sunday, according to Swiss police. The attacker, who had also been hospitalized for his wounds, was also reported dead.
On Saturday, the 27-year-old man injured at least six people when he attacked them on board a train in the canton of St. Gallen. He first poured gasoline in front of a woman, sparking a fire. Next he stabbed several other passengers with a knife.
The injured included a 6-year-old child, two 17-year-olds, a 50-year-old man and a 43-year-old woman, in addition to the woman who died. The victims were all taken to a nearby hospital.
The incident bore similarities to one that occurred in Germany in July, when a 17-year-old Afghan refugee, attacked passengers on board a train with an ax. However, Swiss authorities said they considered it unlikely that the incident was an act of terrorism or political violence.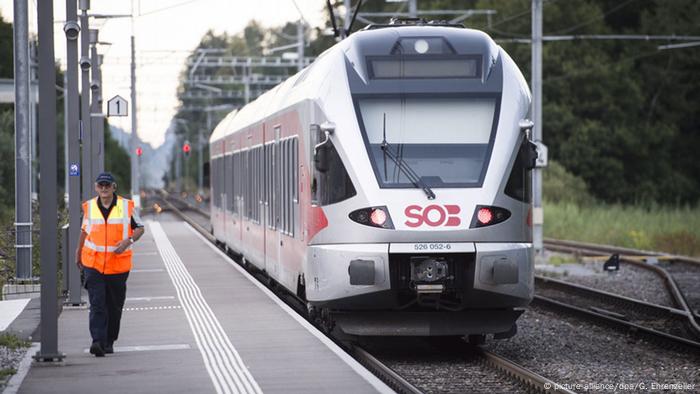 A man on board a train in Salez, Switzerland, attacked passengers, injuring at least six
Terror fears in Europe
Police said none of the victims were in a proper state to talk.
Europe has been on edge in recent months after a slew of terrorist attacks that began last fall with a mass slaughter in the French capital, Paris. Since then, other attacks have occurred in Belgium, Germany, as well as other parts of France.
Many of the attacks have been committed by so-called lone wolves, including one in Nice on July 14, in which a Tunisian man plowed his truck into a crowd on Bastille Day, killing 85 people.
The attacks have led to calls for heightened security around Europe.
blc/rc (Reuters, dpa, AFP)