After much fanfare and a long selection process, the day has finally come: German space initiative "Die Astronautin" has announced its two winners. Germany's first female astronaut will either be military pilot Nicola Baumann or meteorologist Insa Thiele-Eich.
"This is an important day today," Germany's Economics Minister Brigitte Zypries said at the press event in Berlin. "These women are role models for girls interested in math, sciences and aerospace engineering."
Project leader Claudia Kessler initiated "Die Astronautin," German for "Female Astronaut," in Spring 2016 and more than 400 women applied. While Germany has a number of male astronauts like Thomas Reiter or Alexander Gerst, the country has never sent a woman to space. The private initiative aims to change that. The goal: to have Baumann or Thiele-Eich on a flight to the International Space Station (ISS) in 2020.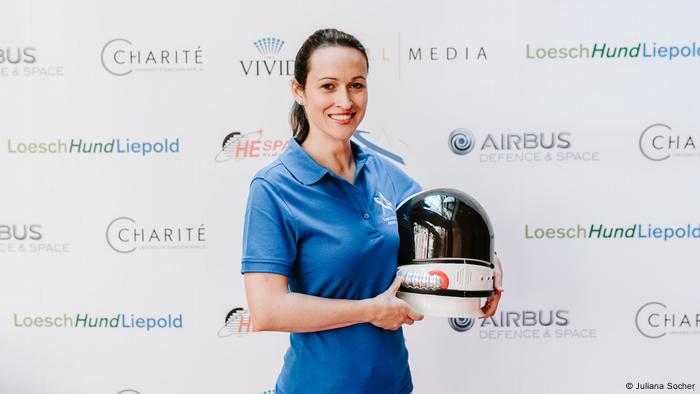 Baumann is used to flying at a speed of 2,000 kilometers per hour
"This is a gigantic moment, my childhood dream come true," Nicola Baumann said after her name was announced.
Baumann is one of three female Eurofighter pilots with the Bundeswehr, Germany's army. The 32-year-old major is responsible for surveilling the airspace above Germany and other NATO countries. She and her husband live in Cologne. In addition to her military training she also has a degree in mechanical engineering.
Insa Thiele-Eich is a meteorologist at the Meteorology Institute at the University of Bonn. The 33-year-old has been a guest lecturer at the National Center for Atmospheric Researc in Boulder, Colorado, several times and lives just outside of Bonn with her husband and her two daughters. Her father Gerhard Thiele has already gone where she longs to go: he was an ESA astronaut and traveled to space in 2000.
"It's an overwhelming feeling," Thiele-Eich said about being selected. "It will take a bit to really sink in."
The event in Berlin was moderated by Rommy Arndt. Unlike Jan Hill, who hosted the event in March where the six finalists were announced, Arndt didn't call the candidates "girls." This time around the discussion seemed more professional and less condescending toward the candidates, who are all accomplished women in their fields.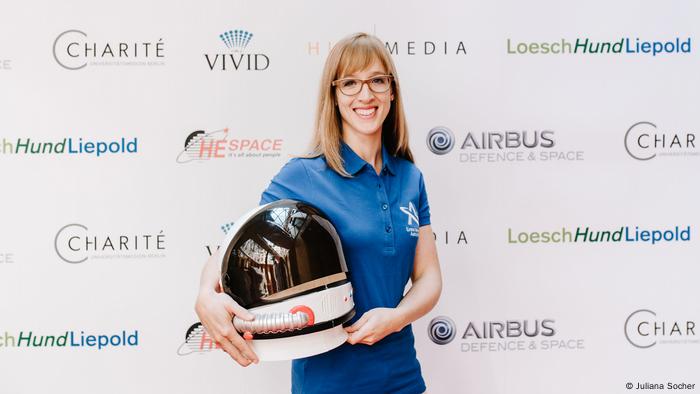 Thiele-Eich is researching how to improve predictions about weather and climate
The initiative has two self-proclaimed goals for the candidate who ends up going to space. She's supposed to inspire young women to seek out college majors or careers in the natural sciences and engineering. And the experiments she's supposed to conduct in space would relate more information on how the female body reacts to zero gravity.
As Ulrich Walter, former astronaut and one of the judges who picked the two winners said, one of the women will be the prime - the astronaut who actually goes to space - while the other one will be the back-up candidate. This is assuming the initiative can raise enough money to send either woman to space.
Skeptics have criticized the crowdfunding nature of the enterprise. Since "Die Astronautin" is not connected to a state-run space agency like NASA or the European Space Agency (ESA), the trip to the ISS and the astronaut training preceding it has to be financed by donors and sponsors.
On the crowdfunding platform Start Next, the project has gathered roughly 27,000 Euros so far. The first goal is 50,000 Euros to finance basic training for the Thiele-Eich and Baumann, including basic knowledge about the ISS, getting a diving license and survival training.
Asked by the moderator of the event where the other 40 million Euro needed to send a woman to space would come from, Kessler laughed for a long time before answering.
"We hope to receive support from the German government, the German Aerospace Center and from ESA," Kessler said. "We already got shoes from Nike and hope to get more from them, too."
There are no promises made yet. Economic Minister Zypries said she supported the initiative - but was careful to stress that this didn't mean funding from her ministry: "I'm here for moral support."