John Bajeneza just hops onto the next motorcycle taxi to get around in Rwanda's capital, Kigali. For the hotel manager, it's part of his daily routine. But today he is being driven by a woman. And that is not something that happens every day. 40-year-old Claudine Nyanamajambere is the only female "moto" driver in all of Kigali, the only woman in a male domain.
But that doesn't make her work any more difficult for her, she says. "Most of my customers are men. Whenever I'm standing around with the other drivers waiting for a passenger, the men choose me. They hear my voice and come over. I take them to their destinations safely." She says she has not experienced any harassment or other problems with male customers.
From bicycle taxi to motorcycle taxi
It's the evening rush hour in the Rwandan capital. Cars are inching their way through the city center and clogging up the intersections. The small African country is growing rapidly. Construction sites have sprung up everywhere, slowing down the traffic even more. But Claudine just zigzags her way between rows of backed-up cars.
She has been a moto driver on the streets of Kigali for four years now. She says it was not a conscious choice. "I spent a long time looking for a job, but I couldn't find one. I had already been a bicycle taxi driver in my home village. So I got a motorcycle license, and that's what motivated me to become a moto driver."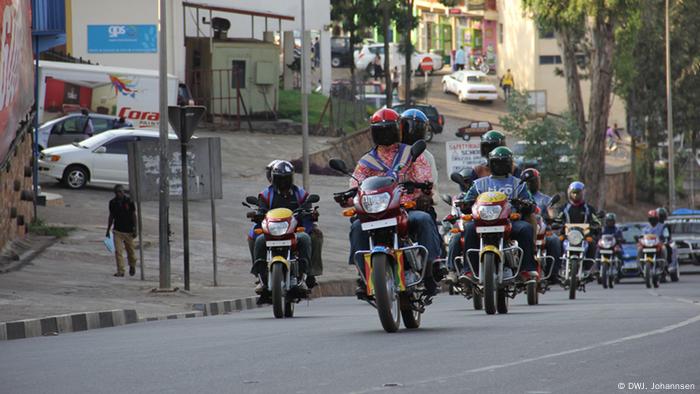 In Kigali, mototaxis are the fastest and most convenient way to get around
Over and over, Claudine has to come to an abrupt halt. Drivers are changing lanes unexpectedly or suddenly slamming their brakes. At least moto drivers and their passengers are required to wear helmets. Riding a moto is not exactly hazard-free; accidents occur daily.
But motorcycle taxis are simply the fastest way to get around in this sprawling city. There are more than 5,000 mototaxis moving through Kigali. No matter where you are, you'll always find a moto in no time whatsoever. Buses are unreliable, and conventional taxis are considerably more expensive and a whole lot slower.
A profession that promotes equal rights
Whether men or women are better motorcycle drivers is not an issue for Claudine's male colleagues. I think it's a good thing for women to drive a moto and make a living that way. After all, how well a person drives is only a matter of experience," moto driver Jean de Dieu Nikarionza says. "It's a job like any other," his colleague Jean Paul Aimana adds. "A woman can do it, too. I think more women should become moto drivers!"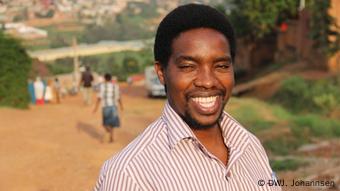 Hotel manager John Bajeneza says it was the first time he was driven by a woman
There are more women than men in the Rwandan parliament. Women can be found at all levels of government, and the government promotes equal opportunity in schools. Nonetheless, Claudine is regarded by some as an unofficial gender equality officer. "My female passengers say I'm doing something for women. By driving a moto, I'm helping to promote equal rights in society."
A family income and possibly a few savings
But in the end, what is important to Claudine is not that she is the only woman to drive a mototaxi. "I need the money for my family. My husband is out of work right now, and if I can still save up a little bit, I'm happy," she says.
The five-minute ride from the city center to the Kimihurura neighborhood cost John Bajeneza the equivalent of slightly more than a euro.
"It is my first time to be driven on a moto by a lady," the hotel manager says. "As a man, you know, you think maybe they cannot do it," he admits. "So you have that first fear, but in the end I found that she's also a good driver."