He was considered one of the greatest. In 2011, music magazine Classic Voice named Claudio Abbado the most important of the top 100 living conductors. One designation, however, he never sought was "maestro." He once claimed to have never aspired to be a conductor. But the "magic of music making" had fascinated him from the day he first heard Claude Debussy's "Nocturnes" in the Milan Scala at age seven.
Listening to each other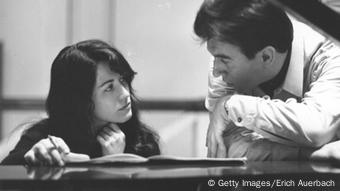 With pianist Martha Argerich in 1968
Abbado was born into a family of musicians in Milan on June 26, 1933. After studying conducting, piano and composition at the Giuseppe Verdi Conservatory in Milan, he continued at the Vienna Music Academy. Claudio Abbado and Zubin Mehta were considered the most promising students there in the class of Hans Swarowsky, widely called "the maker of conductors."
In 1968 Abbado became chief conductor at the Milan Scala. Unlike Arturo Toscanini, authoritarian and much-feared in Milan, he always sought to enter a dialogue with the musicians. "The most important thing is to listen to each other," he explained. That was how a genuine communication could ensue among musicians in a full-scale orchestra, each attending to the others' instrumental voices.
"Listening" was perhaps Claudio Abbado trademark term, the word he used most often in rehearsals. No, the musicians shouldn't listen to him, but to the music, as he'd say repeatedly: "Many people learn how to talk, but they don't learn how to listen. Listening to one another is an important thing in life. And music tells us how to do that."
In the years to follow, Claudio Abbado could be seen on the world's great concert hall stages, in Milan, London and Chicago. Giving his debut at the Vienna State Opera in 1984, he was named the city's general music director. In 1988 he founded the inter-disciplinary festival "Vienna Modern" for contemporary music, visual arts, dance and film.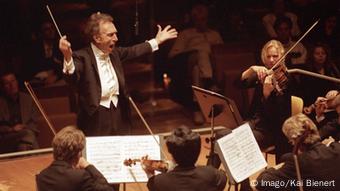 Leading the Berlin Philharmonic in 2001
Crossing borders
In October 1989, the members of the Berlin Philharmonic elected him artistic director, succeeding Herbert von Karajan. Reactions were initially skeptical.
An anti-authoritarian Italian at Germany's signature conductor's podium? "Some conductors want to be dictators. To me, what counts is the love of music and listening to each other," was Abaddo's response. Introducing innovative programs and up-to-date musical renditions, he led the Berlin Philharmonic into a new era. After the fall of the Berlin Wall in 1989 and the end of divided Europe, he searched for a way to cross the artistic divides between East and West, to bring the two parts of the newly united city together and to convey the arts to all sectors of society.
"Theaters, libraries, museums and movie theaters are like little aqueducts," he explained.
Music as a healer
In his homeland, Abbado was an outspoken critic of Italian Prime Minister Silvio Berlusconi, whom he deemed politically ignorant. On Italian television he read a manifesto against the government's cultural policies: "Culture overcomes social inequities. Culture frees us from poverty."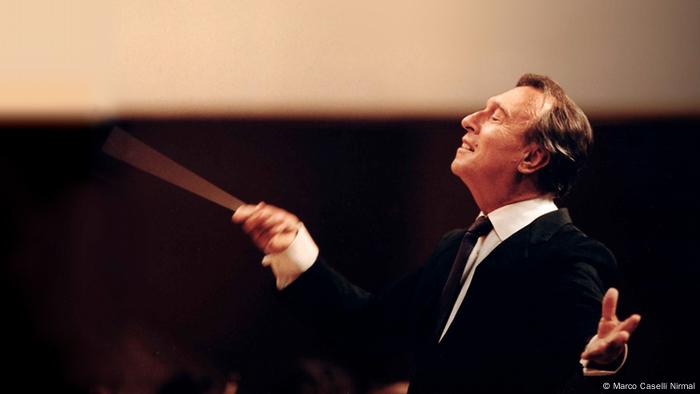 He received respect - and generously gave it
In the same broadcast, he addressed his cancer diagnosis, which he'd first suffered from in 2000. The illness marked a deep divide in Abbado's life. Resigning from the position with the Berlin Philharmonic, he sought no responsibilities after his erstwhile recovery.
In 2003, the illness was considered cured. He began to conduct again but less frequently, preferring to spend time with his family at his house in Sardinia. "Music was important in helping me to overcome my illness. But even more important was my family - the love and support I experienced from friends and relatives in my private surroundings."
When the cancer returned several months ago, Claudio Abbado cancelled all concert engagements. He died in Bologna on January 20, age 80.