Obama's comments came after a strong warning to protest leaders by Iran's supreme leader and criticism by Republican lawmakers, led by Senator John McCain, of a tepid White House response to the protests and to charges that last week's presidential vote was rigged.
"I'm very concerned based on some of the tenor and tone of the statements that have been made that the government of Iran recognizes that the world is watching," Obama told CBS News. "And how they approach and deal with people who are, through peaceful means, trying to be heard will, I think, send a pretty clear signal to the international community about what Iran is and -- and is not."
Asked whether he had a message to the demonstrators, Obama replied "I absolutely do."
"We stand behind those who are seeking justice in a peaceful way," Obama said. "We stand with those who would look to peaceful resolution of conflict and we believe that the voices of people have to be heard."
Obama rejects Tehran's claims of intervention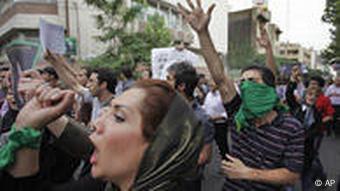 Tehran says the US has stirred up the protesters
The president also attempted to debunk claims by some in the Iranian leadership that the opposition demonstrators were acting at the behest of the United States, which has had a long history of antagonism with Iran. Tehran, with which Washington severed ties shortly after Iran's 1979 Islamic revolution, has already accused the United States of "interventionist" statements on the election.
"Let's understand that this notion that somehow these hundreds of thousands of people, who are pouring into the streets in Iran, are somehow responding to the West or the United States. That's an old distraction that I think has been trotted out periodically. And that's just not going to fly."
Obama also said Washington must be careful not to become "a foil for those forces inside Iran who would love nothing better than to make this an argument about the United States. That's what they do. That's what we're already seeing. We shouldn't be playing into that."
Obama has been less critical of the election than many European leaders to avoid being accused of meddling in the election and potentially triggering a backlash against the demonstrators just as his administration seeks to engage Tehran over its nuclear program.
US officials keen to keep out of developing crisis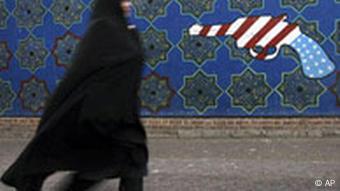 The US doesn't want to give Iran any more ammunition
Senior US officials earlier stressed that Washington was making strenuous efforts to avoid being drawn into the crisis in a way that could be used by the government against the demonstrators.
"The more the United States looks like they are going to interfere, the more it is going to be detrimental," said one official on condition of anonymity. "This is not about us."
Despite assurances by top officials that Washington would not inject itself into the crisis, both houses of the US Congress voted to condemn violence against demonstrators by the government of Iran
The House resolution, which passed by 405 votes to one, expressed "its support for all Iranian citizens who embrace the values of freedom, human rights, civil liberties, and rule of law."
It also "condemns the ongoing violence against demonstrators by the government of Iran and pro-government militias, as well as the ongoing government suppression of independent electronic communication through interference with the Internet and cell phones."
Democrat Howard Berman, chairman of the House Foreign Affairs committee, said the bill was not a "judgment on who won the Iranian elections."
"It is an acknowledgement that we cannot remain silent when cherished, universal principles are under attack."
Critics want harder tone from Washington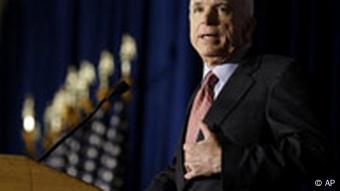 John McCain is among those who want a harder tone
On Friday, Senator John McCain told Reuters the Iranian election was "corrupt" and urged Obama to speak out more forcefully on behalf of the demonstrators.
"I'm not saying send arms to them, I'm not saying they should foment revolution, I'm not saying they should do anything but hear that the United States of America supports their assertion of their basic human rights," said McCain, who lost to Obama in last year's US presidential election.
Iranian Supreme Leader Ayatollah Ali Khamenei said on Friday that last week's election was won fairly by President Mahmoud Ahmadinejad and not rigged, as defeated candidate Mirhossein Mousavi alleges. Khamenei warned protest leaders they would be responsible for any further bloodshed.
nda/AFP/Reuters/AP
Editor: Greg Benzow