Shortly before President Barack Obama arrives for a two-day visit, Kenya's capital Nairobi is shining in new splendor. Freshly planted palm trees line the road leading to the airport, US and Kenyan flags fly side by side. Some enthusiastic Kenyans have even downloaded an excerpt from an Obama speech as their mobile phone ring tone.
Police have intensified security measures ahead of the visit, not only in Nairobi. The city of Kisumu, with 500,000 residents is also in a state of emergency. It is located not far from the village of Kogelo, where Obama's father, Barack Obama Senior, was born in 1936. Here, too, security is at maximum level.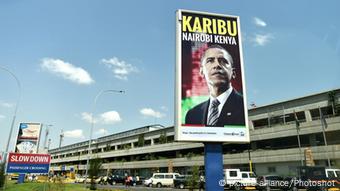 A poster welcoming the US President to Jomo Kenyatta Airport
"We are not allowing any more vehicles to enter the village," said Caroline Onchoka, commissioner in charge of local security.
Metal detectors have been brought in so that members of the public can be frisked before entering, Onchoka told DW. "We have done everything."
Still hoping her grandson will come
The US president's 94-year-old grandmother, Sarah Obama, is particularly looking forward to Obama's visit. She told DW she would slaughter a farm animal for him. "Whatever he likes to eat, whether it is duck, lamb, even cow's meat. We have everything for him," she said in an interview with DW's Kiswahili service.
Barack Obama himself has never lived in Kenya. He was born in Hawaii where his father studied in the 1960s and met his future wife, Stanley Ann Dunham. Their marriage lasted only three years. In 1964 Obama Senior returned to Kenya where he died in a car accident 18 years later.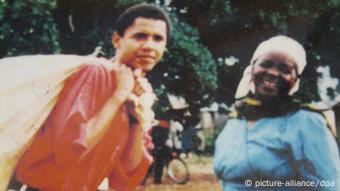 Obama with his grandmother during his first visit to Kenya in 1987
His father's death prompted the man who is now president of the United States to embark on a search for his roots. In 1987 he traveled to Kenya for the first time. His uncle Said recalls driving in the Kenyan "Matatu" mini buses and going for walks through Nairobi's Mathare slum district without attracting any attention.
A secret national hero
Today that would be unthinkable for the world's most powerful man. Since he became president of the United States in 2009, the East African nation has elevated him to the status of national hero. That he is not a real Kenyan is irrelevant. His face can be seen everywhere, on T-shirts, materials of all kinds and packs of chewing gum.
When Obama now comes to Kenya for the first time as president, street trade Robert Otieno in Kisumu is one of the many people to benefit. He began selling posters of the Obama family as soon as the visit was announced. "I sell ten posters a day and I'm satisfied with the money," he told DW.
A village between hope and fear
In Kogelo two schools have been named after Barack Obama. The president's family bought the land on which they were built.
Pupils at the Barack Obama Secondary School are hoping so much to meet the man after whom their school is named, principal Henry Odongo told DW. For himself, he hopes President Obama could come and see for himself how the village has been transformed. Roads have been given a new covering of tarmac and "we even have hotels for visitors who want to see where Obama's father grew up."
But it seems unlikely that Obama and his 700-strong entourage will include a visit to the village in their progam. There simply isn't enough time, the US embassy said. For the residents of Kogelo, this comes as a bitter disappointment. "You can't come 5,000 kilometers (3,107 miles) to Kenya and then not manage another 200," said Kogelo's village chief Dennis Okumo.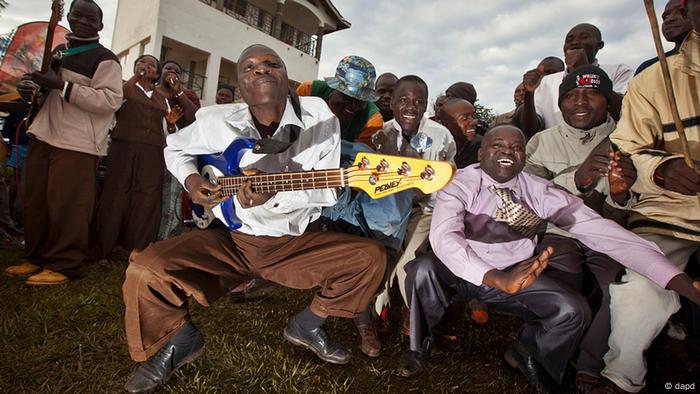 Kenyans celebrating Obama's re-election in 2012
Village resident Richard Okello said people wanted to see "their boy."
"He should come and say hello to his grandmother, then we'd be the happiest people in the world," Okello said.
Grandmother Sarah Obama takes it all calmly. Obama is a son of Kenya, not just of Kogelo, she says diplomatically. Nevertheless, she is still quietly hoping her grandson will find time to come by. "He must come and see his father's grave," she said.
John Marwa, Geoffrey Mung'ou, James Shimanyula contributed to this article