Obama made his gesture on Wednesday during a trip to the mostly African-American community, some 100 kilometers (62 miles) northeast of Detroit, to speak with local leaders and residents about the crisis.
After coughing several times while speaking at a high school gymnasium, Obama called for a glass of water and drank it, underlining his reassurances that filtered water in the town had been declared safe to drink by environmental officials.
However, Obama admitted that it would take more than two years to replace aging pipes that have contaminated water to the town.
"It's not going to happen overnight, but we have to get started," Obama said.
"I will not rest, and I'm going to make sure that the leaders at every level of government don't rest, until every drop of water that flows to your homes is safe to drink and safe to cook with and safe to bathe in, because that's part of the basic responsibilities of a government in the United States of America," he said.
The president blamed the crisis in part on a prevalent attitude in many quarters of the USA that government should interfere as little as possible in the running of a country.
Slow response
The scandal in Flint began when the city switched its water source from Detroit's municipal system to the local Flint River in April 2014 to save money. The river water was more corrosive than that from the Detroit system, and leached more lead from the aging pipes leading to the city.
Lead is toxic even at low levels, and children are particularly vulnerable. Lead poisoning can cause severe mental and physical impairment.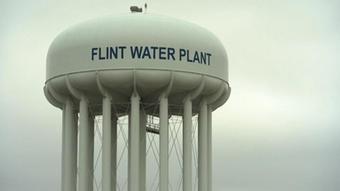 Water to Flint still runs through lead pipes
In September, doctors reported high levels of lead in the blood of children living in Flint, although city leaders had insisted the water was safe, even in the face of residents' complaints about the smell, taste and health problems.
The city switched back to the original water supply in October, but political and legal fallout is ongoing. The scandal has raised questions about the extent to which racial and poverty issues - 40 percent of Flint residents live under the poverty line - influenced decisions regarding the water supply and caused a sluggish response by authorities.
'Too little, too late'
Many Flint residents have blamed Michigan's Republican governor, Rick Snyder, who was greeted by boos from the crowd at Wednesday's meeting.
Snyder said he understood why residents were angry and wanted to give an apology.
"You didn't create this problem," he said. "Government failed you."
However, the response from many in the audience was, "You failed."
An independent inquiry instigated by Snyder determined that the state government was mostly to blame for the problem, and the governor issued an apology. Snyder and some Congress lawmakers have also criticized the response by the Obama administration through the Environmental Protection Agency (EPA), saying EPA officials were too slow to respond.
A Senate committee last week approved a $220 million (191 million-euro) aid package as part of a wider bill putting aside nearly $4.8 billion for water-related projects across the US. The Senate might vote on the bill in May.
Flint-born Oscar-winning filmmaker Michael Moore has called into question Obama's assurances that the water was now safe, pointing out that water to Flint was still running through "the same corroded lead pipes."
He described Obama's visit as "too little, too late."
tj/kms (dpa, Reuters, AP)