The campaign posters are dotted across Paris, and an online petition has already gathered more than 40,000 signatures. Barack Obama may be out of a job in the United States, but he's in demand among a disaffected electorate in France.
"This operation aims to make people think about what's happening with this election," says one of the campaigners behind the Obama2017.fr initiative. "To make them laugh and dream a little bit - like having Obama as president."
The drive to recruit the former US leader to run in France's spring presidential elections is the brainchild of four Parisians in their 30s, dreamed up over beers. The group doesn't want to be identified, but one of their members agreed to speak to DW anonymously.
"We didn't launch this operation to promote ourselves," said the campaigner, who describes the group as apolitical. "We were just talking about the election and our fears of what might happen in France, like if extremist groups were to win."
Voter discontent
Indeed, the drive taps into a potent vein of voter discontent during an election season marked by a sharp rejection of mainstream favorites. Two of the surviving frontrunners, far-right leader Marine Le Pen and conservative ex-prime minister Francois Fillon, are battling allegations of misappropriating public funds.
Another, 38-year-old former economy minister Emmanuel Macron, surfing on his youth and outsider status, is dismissed by some critics as a lightweight.
A December IPSOS survey found up to one-quarter of voters are tempted to cast a blank ballot during the first round of voting in April.
"Everybody is so worried and dissatisfied with the contenders they have," says analyst Nicole Bacharan. "We have seen them forever and they keep coming back."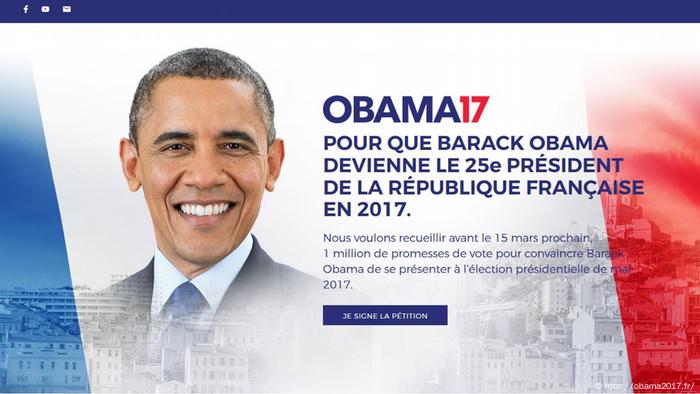 Obama2017.fr aims to collect a million signatures by March 15 to convince him to run
Those sentiments are echoed on the Obama2017.fr website, which calls for a sea change in governance that would usher in a sixth republic. French voters, it says, should offer "a lesson in democracy to the planet in voting for a foreign president."
"Barack Obama," it adds, "has the best CV in the world for the job."
"Why should we always get the same old people?" the campaigner said, dismissing a status quo in which many French politicians graduate from the same narrow list of elite schools and hang on forever.
While conceding the former US president also has elite credentials, notably degrees from Columbia University and Harvard Law School, he added, "Obama represents something we admire in France, someone who can unite people."
Time for change?
Near the Place de Clichy in northern Paris, a few pedestrians pause to take in several Barack Obama campaign posters lining a major artery, complete with the French translation of his iconic motto, "Oui on peut" ("Yes, we can").
"I'd like a bit of change," said retiree Michel Ducoudre. "Like in the Anglo-Saxon countries. When a candidate loses, they don't run again. Here, they run three or four more times."
"This year the elections are just nonsense," says 55-year-old Noellie Benison. "If Obama runs, I'll vote for him."
Europe greeted Obama's election a decade ago with euphoria, a sentiment that waned as his two-term presidency focused more on domestic and Asian-Pacific issues than European ones. Still a Pew Research Center poll last June found the majority of citizens in five European Union countries surveyed were confident he would do the right thing in world affairs. That included 86 percent of Germans, and 84 percent of French.
By contrast, many Europeans greeted the victory of current President Donald Trump with dismay. Still a recent survey found many would support the kind of immigration ban from majority-Muslim countries that he vows to enact in the United States.
Nonetheless, "I think there was hardly any country where Barack Obama was more popular than in France," says Bacharan, who specializes in US politics. "Even though his popularity dwindled a little bit at the end, he still remains this heroic figure: elegant, charismatic, smart, young, connected."
A long shot
If Obama's own thoughts about a run are unclear - efforts to contact his media team proved unsuccessful - the odds against doing so are daunting.
First is the matter of collecting one million signatures by March 15 to put him on the ballot. He also must be a French citizen -although one enthusiastic lawyer tipped the Obama2017.fr team on how this could be fast-tracked.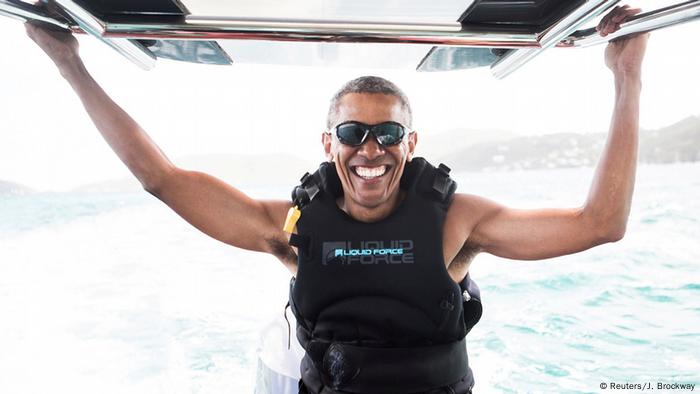 Obama appears to be enjoying his time out of office
Campaign financing is another headache. The Paris group pooled their centimes to pay for the Obama posters in the capital; a nationwide rollout was out of the question.
"It was an expensive joke," the campaigner admitted with a grin.
Still, there are some serious perks. Obama's favored cheeseburgers and fries are widely available in Paris. So are basketball courts - although it's unclear whether the Elysee presidential palace might consider building one on its grounds.
Yet in a country rocked by recent protests against alleged police discrimination, and where the far-right's anti-immigrant message is resonating, some wonder if France is ready for a black president.
"Sadly I'm quite sure France is not ready for a black president," analyst Bacharan said. "But the French would be ready for Barack Obama. Worldwide, he lost his color; he just became an American president."
The campaigner disagrees. "I think Obama would be perfect," he said. "He's done the job in the US exactly the way we would need someone to do it in France."
Asked who he will vote this spring, he pauses half a beat. "Barack Obama," he says.