Johnson spent three years researching his third book, "The Orphan Master's Son," which included a six-day trip into the communist country. It tells the story of a regime in growing confrontation with the United States, and a military hero at odds with his superiors.
"I wanted to give a picture of what it was like to be an ordinary person in North Korea," said Johnson. "It's illegal there for citizens to interact with foreigners, so the only way I could really get to know these people was through my imagination."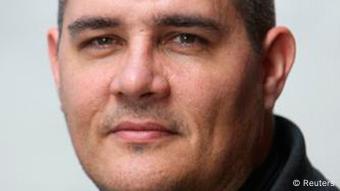 Pulitzer Prize-winner Adam Johnson
The jury praised Johnson's book as "an exquisitely crafted novel that carries the reader on an adventuresome journey into the depths of totalitarian North Korea and into the most intimate spaces of the human heart."
Last year, Pulitzer officials decided - for the first time in decades - not to award a prize for fiction. This angered booksellers and publishers, as a fiction prize usually results in a boost in sales.
New York Times dominates
The New York Times received four journalism awards, for investigative journalism, explanatory reporting, international reporting and feature writing.
Its investigative report detailed "how [the retail giant] Wal-Mart used widespread bribery to dominate the market in Mexico, resulting in changes in company practices."
The jury praised the work by journalist David Barboza, who won the international reporting Pulitzer for the New York Times for his exposure of corruption at the highest levels of the Chinese government.
The alleged corruption included "billions in secret wealth owned by relatives of the prime minister," said the jury, and that Barboza's reporting was "well documented work in the face of heavy pressure from the Chinese officials."
Perhaps the biggest surprise winner was the small website InsideClimate News, which won the national reporting Pulitzer for its investigation of a 2010 oil spill into the Kalamazoo River in the US state of Michigan.
The prize for Breaking News photography went to the Associated Press news agency for its coverage of the conflict in Syria. The Denver Post won the Breaking News prize for its coverage of last year's Aurora cinema shooting, in Colorado.
The 97th annual Pulitzer Prizes, the most presigious prizes in US journalism, were awarded by Columbia University.
Four of the five books to win were published by divisions of Random House. The merger of its German parent company, Bertelsmann SE, and Penguin - a division of Britain's Pearson PLC - was cleared by the European Commission earlier this month.
Together their shares would control about one-quarter of the world's consumer market. Other companies must agree with the EU and US approval before the merger can proceed.
jr/kms (dpa, AP)