Adherents of the pro-British Democratic Unionist Party (DUP) unfurled a banner outside Northern Ireland's Stormont parliament Tuesday, urging Irish nationalists to end their "boycott."
The region has been without a devolved executive – a key part of Northern Ireland's 1998 peace deal – since January 2017, when the nationalist Sinn Fein party led by the region's late first minister, Martin McGuinness, pulled out, asserting it was not being treated as a equal by the DUP.
Read more: Past "troubles" haunt Northern Ireland
Civil servants have maintained some governance of the region's 1.8 million people but without major policy decisions, with Brexit – due in March next year – raising fundamental questions about how to handle a future border between British-ruled Northern Ireland and EU-member Ireland.
Reconciliation absent
On Tuesday, there was little sign of reconciliation as Northern Ireland eclipsed Belgium which between 2010 and 2011 spent 589 days without an elected government.
Sinn Fein politician Conor Murphy said rights issues, such as same-sex marriage and legal protection for the Irish language, "will continue to have to be addressed."
"They are still part of the reason why this institution collapsed," Murphy said, referring to last year's administrative collapse.
DUP leader Arlene Foster claimed Sinn Fein was the problem, saying it was "long past the time to get back into government."
Demonstrators using the hashtag #wedeservebetter planned rallies in several cities on Tuesday evening to call on both parties to restore power-sharing.
March budget queried
In March, the London-based British government declared a budget of 12-billion pounds ($16.6 billion, €14.3 billion) for Northern Ireland, saying it was needed to relieve "acute pressure" across public services.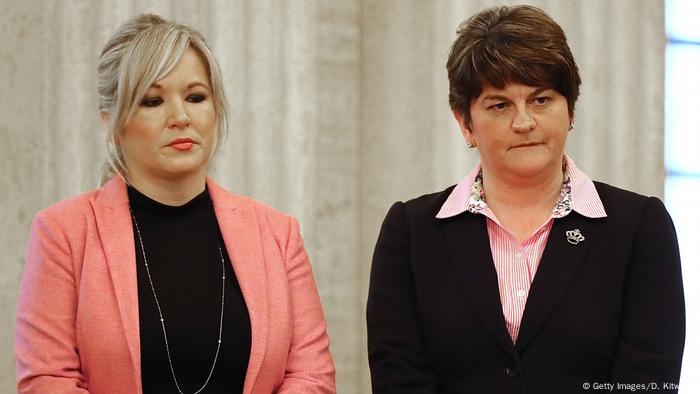 March 2017: Sinn Fein's O'Neill and DUP's Foster during McGuinness' funeral
The DUP's Foster said it was "great news" while Sinn Fein's new leader, Michelle O'Neill, described it as "disappointing" and called for an intergovernmental conference proscribed under the 1998 Good Friday agreement.
'Redoubled effort' needed
Last March, Irish Prime Minister Leo Varadkar, marking 20 years of peace in Northern Ireland while visiting Washington, had called for "a redoubled effort" to restore governance at Stormont.
In April, former US President Bill Clinton, while visiting Dublin, urged politicians to end Northern Ireland's "paralysis," warning that its people risked "losing a democracy."
Dublin, Berlin warn against a no-deal Brexit
Visiting Berlin on Tuesday, Ireland's foreign minister, Simon Coveney, said the prospect of London and the EU not reaching a deal on Brexit "was in nobody's interest."
Talk of a no-deal Brexit was "more a negotiating position that it was reality," said Coveney, who had previously described Northern Ireland's devolved government as the "heartbeat of the Good Friday agreement."
His host, German Foreign Minister Heiko Maas, said Berlin expected that an agreement over Brexit would emerge.
"An exit of Great Britain from the EU without agreement over the future relations would bring disadvantages for all," said Maas.
ipj/kms (dpa, Reuters, AP)