The two Koreas opened a join liaison office on Friday in the northern city of Kaesong, one week before South Korean leader Moon Jae-in is scheduled to visit the North Korean capital Pyongyang.
"A new chapter in history is open here today," South Korean unification minister Cho Myoung-gyon said in a ceremony, AFP reported. "This liaison office is another symbol of peace jointly created by the South and the North."
Cho's North Korean counterpart, Ri Son Gwon, was also present at the ceremony. He called the office a "substantial fruit nourished by the people of the north and south."
The office's opening is the latest in a series of historic reconciliation moves, including family reunifications and two previous summits between Moon and North Korean leader Kim Jong Un, which have raised hope of thawing then political stalemate between the countries.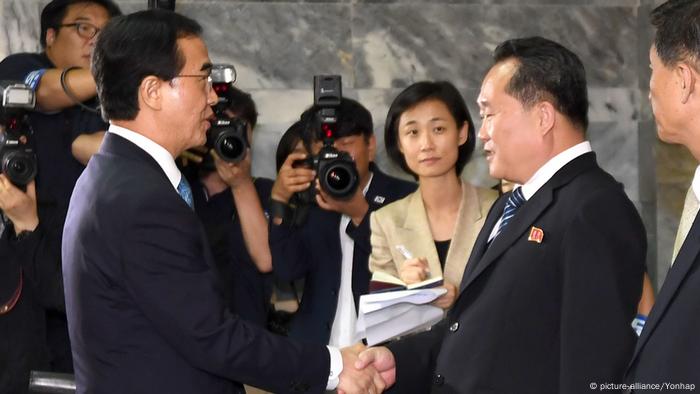 Cho Myoung-gyon and Ri Son Gwon met in August 2018
24/7 communication
The building in Kaesong, located some 60 km (37 miles) away from Seoul and 141 km from Pyongyang, is set in a former industrial area that was once part of South Korea and now lies in the North, close to the Demilitarized Zone that divides the nations.
The complex features separate North and South offices but have a joint conference room, the unification ministry said. It is aimed at improving cross-border communication, as the Koreas have been using telephone and fax-like channels to exchange messages rather than meeting face-to-face.
"The inter-Korean joint liaison office is a channel for round-the-clock communication in the new era of peace," Cho said in his ceremonial speech, local news agency Yonhap reported. "From today, South and North Korea can have direct consultations 24 hours a day and 365 days a year over issues relating to advances in inter-Korean relations, peace and prosperity on the Korean Peninsula," he added.
Weekly meetings will take place between North and South officials. Around 20 officials from each country are expected to staff the office.
Around 50 people from each nation were present at Friday's ceremony.
Results of April Koreas summit
The opening of the office was agreed upon in April, when Moon met with Kim. It was expected to start operating in August but was delayed because of concerns in Washington over the speed of denuclearization progress.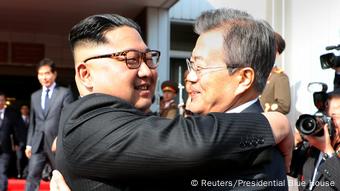 Kim (L) and Moon (R) have met multiple times this year
Moon is scheduled to meet with Kim again on Tuesday as a part of a three-day visit. It will be the two leaders' third encounter following the historic April summit, a similar May summit and June's meeting between US President Donald Trump and Kim regarding denuclearization of the Korean peninsula, which Moon brokered.
While Kim expressed support for denuclearization in the meeting brokered by Moon, details and precise objectives remain unclear.
South and North Korea technically remain at war with one another, having never signed a peace treaty following the end of the Korean War in 1953 that saw the divided peninsula fall into a frozen conflict.
cmb/kms (dpa, AFP, AP)
Each evening at 1830 UTC, DW's editors send out a selection of the day's hard news and quality feature journalism. You can sign up to receive it directly here.