Every morning at 8.01 a.m. a train leaves the Belarusian town of Brest for the nearby Polish city of Terespol. The route between Brest and Terespol is served by three trains a day, but the morning one is especially crowded. Usually, more than half the passengers are from the North Caucasus, a region of the Russian Federation that includes the republics of Chechnya, Ingushetia, North Ossetia and Dagestan. Sometimes, as many as 300 people make the 20-minute journey across the EU border.
More and more people from the Russian Caucasus region are crossing from Belarus into Poland, where the vast majority immediately apply for refugee status. According to the Polish border authority, 90 percent of all asylum requests are made at the Brest-Terespol border crossing. In the first half of 2013, 9,500 people requested asylum: 8,730 were of Russian origin. That's almost twice as many as in the previous year.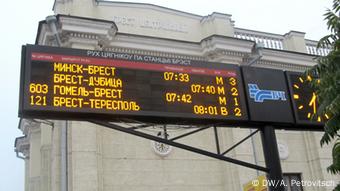 Trains to Terespol in Poland leave the station in Brest three times a day
Destination Western Europe
Passport control at the train station in Belarus is not usually a problem for North Caucasians. Belarusian border officials are not required to check whether Russian citizens have a visa for the EU, they just have to check that their passports are in order.
When the train leaves the station, it's immediately apparent how nervous people are. They are reluctant to engage in conversation. All you find out is that most of them are from Chechnya, and that they're travelling without an EU visa. They say they want to go to the West, and that they have relatives already living there. The situation in their homeland is "not good". There is "no freedom."
When the train arrives in Terespol, people with a valid EU visa are allowed to leave the train first. Those without a visa sometimes have to wait several hours in the train before Polish border officials take them to a special room where they are questioned by the Polish authorities. The asylum seekers have often been advised what to say by fellow Caucasians in Belarus.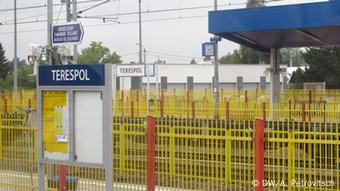 The train journey to Terespol only takes 20 minutes
If the Polish officials can be convinced that they were forced to leave their country, they're allowed to stay until it becomes clear whether or not they will be granted asylum. But only a few succeed. Most are put back on the train to Belarus. The next day, many of them try again. They do not want to go back to the Caucasus. Often, they stay in Brest for some time, waiting for another opportunity to enter the EU.
Lucrative business
Over the past few years, renting accommodation to the North Caucasians has become a lucrative business for the citizens of Brest. Estate agents say it has had an effect on rents overall. Only in Minsk, the Belarusian capital, are rents more expensive. "It's more profitable to accommodate a Chechen, a Dagestani or a Georgian for a night than to rent to locals," said Yevgeny, who works with people who provide apartments for Caucasians in Brest. A family apartment can cost up to 100 dollars a day.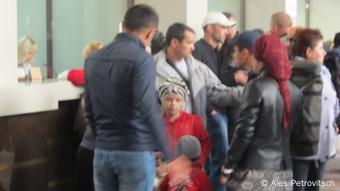 Most of the North Caucasians want to travel on to other EU countries
Yevgeny also reports that Caucasians abroad are well-connected. If someone has been recognised as a refugee in a EU country, the news spreads very fast, and more and more people come from the northern Caucasus to Brest as a result.
En route to Germany
Only around 30 percent of the asylum seekers stay to complete the asylum procedure in Poland. For most of the Caucasians, Poland is not their final destination. They quickly leave the refugee housing and travel illegally to other EU countries, like Germany.
They are usually not aware that according to EU law they cannot apply for asylum in another EU country if they have already applied for asylum at the Belarusian-Polish border. They have to reckon with the possibility that they will be deported back to Poland. But for these North Caucasians, it's still preferable to going back to their homeland.