Finish cell phone maker Nokia reported that net revenue - including both its mobile phones and its network divisions - fell from 12.6 billion euros ($16.56 billion) in the fourth quarter of 2010 to 10 billion euros in the same quarter of 2011.
The net loss of 1.07 billion euros was due to a 1.1-billion-euro write-down on its location and commerce unit, Nokia CEO Stephen Elop said in conference call Thursday.
Elop noted that the company sold 113.5 million handsets in the quarter, of which 19.6 million were smartphones. The smartphone sales were down 31 percent year-on-year, but up 17 percent compared to the preceding quarter.
"Nokia is not necessarily dead in the water. Profit margins were a bit higher than expected and the company has not lost its third position in smartphones," Neil Mawston from Strategy Analytics in London told the Associated Press.
'War of ecosystems'
Nokia has lost its once-dominant position in the global cell phone market, with Android phones made by Google and Apple's iPhones overtaking it in the growing smartphone segment.
The Finnish company is attempting a comeback with smartphones using Microsoft's Windows software, a struggle that CEO Stephen Elop characterized as a "war of ecosystems."
He said Nokia sold "well over" one million such devices since the launch of the Lumia line in the fourth quarter, and added that the result was "in line with company expectations."
By comparison, Apple sold 37 million iPhones in the same period.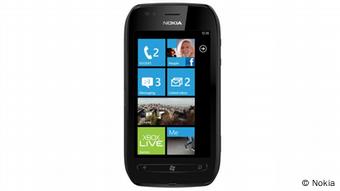 Nokia has chosen a Windows operating system for its Lumia series
"From this beachhead of more than one million Lumia devices, you will see us push forward with the sales, marketing and successive product introductions necessary to be successful," Elop said.
The company announced that it would bring the Lumia to market in China and Latin America in the first half of 2012.
Analysts surprised
The company didn't provide annual targets for 2012, saying it was in a "year of transition." But it said that it expected operating margins in the first quarter of this year to be "about break-even."
Michael Schroeder, analyst at FIM bank in Helsinki, said markets had welcomed Elop's comments on sales of Lumia.
"It definitely alleviated concerns about a horror scenario, expected by some. Although a million is not a lot in the market, it was better than expected," Schroeder told the Associated Press.
Nokia proposed a dividend of 0.20 euros per share for 2011, and said that chairman and former CEO Jorma Ollila will step down in May. A nomination committee proposed board member Risto Siilasmaa as the new chairman.
Author: Uwe Hessler (AP, dpa)
Editor: Michael Lawton