In early December, Nikolaus Harnoncourt surprisingly withdrew from active music life. He had planned to conduct concerts well into 2016, including events at his Styriarte music festival in Graz, the city of his youth.
"My physical powers dictate a cancelation of further plans," he explained in a handwritten letter released the day before his 86th birthday in December. Failing health had forced Harnoncourt to cancel a number of dates in the preceding months.
Reluctant to step down
The farewell to his fellow musicians and the public had apparently not come easily: "An unusually deep relationship has been built between us onstage and you in the auditorium - we are a happy community of discoverers!"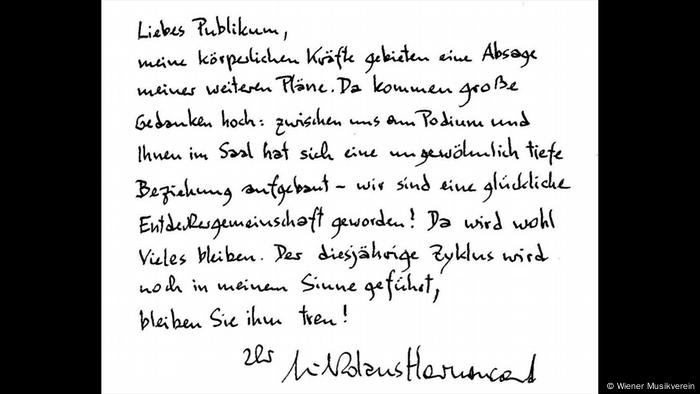 Harnoncourt's handwritten farewell
A year earlier, in December 2014, Harnoncourt accepted the Echo lifetime achievement award with a note of skepticism, saying, "What if I have a different lifetime achievement starting the day after tomorrow?"
17-year conducting course
Before embarking on his conducting career, Harnoncourt played cello with the Vienna Symphony Orchestra for 17 years, from 1952 until 1969, experiencing firsthand conductors like George Szell, Bruno Walter and Otto Klemperer. During that period, he studied the performance practice of the Renaissance and Baroque eras, probing and experimenting with the sound of historic instruments.
His interests were never restricted to music however; they extended to painting, sculpture, literature and architecture. "I couldn't imagine," he said, "that the sculptures of Bernini could be so beautiful, so bursting with passion and enthusiastic vitality, and that the music of Corelli, who lived at the same time, should be so awfully boring." Harnoncourt concluded that the music of earlier times had been misunderstood.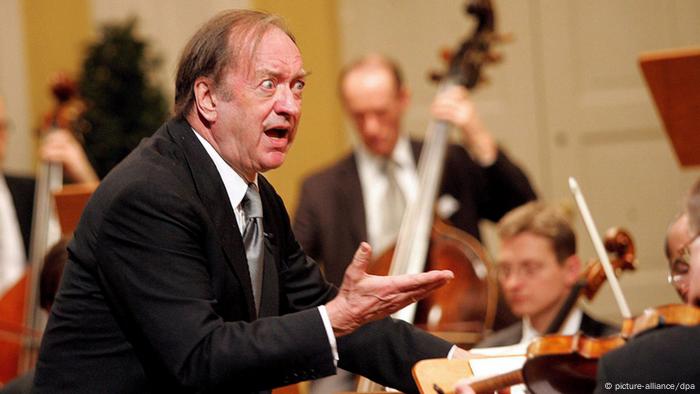 Harnoncourt was one of the most influential conductors of the 20th and 21st centuries
Seeking the original sound
Together with his wife Alice, a violinist, he founded the period instrument group Concentus Musicus Vienna in 1953. The orchestra's debut four years later was an international breakthrough, as was a recording of Johann Sebastian Bach's Brandenburg Concertos soon afterward.
The quest for the original sound involved not only historic instruments but also a close study of historic source materials to influence phrasing, dynamics, articulation and tempo. Never interested in musical reconstruction per se, Harnoncourt's focus was on respecting the composer's intentions and on artistic integrity.
Doing so, he was not purely oriented on the past. "If someone thinks he can understand and perform Monteverdi, in the true sense of Monteverdi - without living at that time, without having a mother born in 1550, without wearing the clothes of those times, without the food they ate and their entire feeling of life - that's a complete illusion," he wrote. "If we play this music, it's a true 20th century performance. If Monteverdi were to come in and hear it, he'd laugh - at best."
Blazing trails
As the role model for many period instrument ensembles to follow, Concentus Musicus Vienna had a pioneering influence on music worldwide. Although informed by academic research, Harnoncourt's musical interpretations were anything but dogmatically academic, described instead as "fresh," "radical," "polarizing" and "revolutionary."
Another of Harnoncourt's standard-setting achievements was the recording of all of Bach's cantatas, a 20-year project in collaboration with the Dutch harpsichordist Gustav Leonhardt and Concentus Musicus.
A musical family
Born on December 6, 1929 in Berlin as Nikolaus Count de la Fontaine und d'Harnoncourt-Unverzagt into a family of musicians - his father was a proficient pianist and composer - he enrolled in cello studies at the Vienna Music Academy at age 19 and graduated with honors.
In 1976 he teamed up with French stage director Jean-Pierre Ponnelle in Zurich for productions of Monteverdi's three operas, for which Zurich's Tonhalle Orchestra founded an ensemble with baroque instruments. The collaboration resumed a few years later with a much-lauded complete cycle of Mozart's operas.
Informed by historic performance practice, Harnoncourt later led a number of top-notch conventional orchestras, including the Royal Concertgebouw Orchestra Amsterdam, the Vienna and Berlin Philharmonics and the Chamber Orchestra of Europe. He was also at the podium for notable operatic performances, not only of the works of Monteverdi and Mozart, but also those of Johann Strauss. Over the years, his reach in repertory extended beyond the Baroque and classical periods to include late Romanticism and the modern era, with Bruckner and Berg.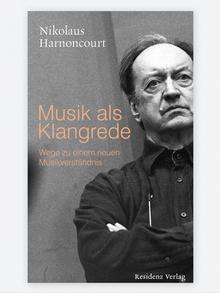 "Music as Speech:" A manifesto of historic performance practice
'Music as Speech:' cautioning against musical superficiality
In his well-known 1983 book "Musik als Klangrede" (Baroque Music Today: Music as Speech), Harnoncourt cautioned against a superficial concept of music, consumed as pleasant material for the ear. His conviction was that music is far more than mere ornamentation or entertainment.
Harnoncourt's death means the loss of "the original of original sound," Vienna Musikverein director Thomas Angyan told ORF, the Austrian Broadcasting Corporation, on Sunday. "It is an irreparable loss. We have the responsibility to carry on the musical heritage he bequeathed to us."
Harnoncourt's influence, in fact, is not limited to his own comprehensive achievements. A wide range of today's most renowned conductors acknowledge Harnoncourt and his ideas.