Thousands of people have flocked to squares across Turkey on a nightly basis since President Recep Tayyip Erdogan called supporters to the streets on July 15, the evening of the failed coup. The supporters of the regime have become known as the "Democracy Watch."
"I still think there is a threat," 26-year-old Muhittin Bayhantopcu said on Istanbul's Taksim Square Friday evening. "This threat is against the entire country, toward all groups. I'm here for democracy."
Thousands of people filled the square on Friday evening, many of them holding Turkish flags. There were women wearing religious coverings such as chadors, men with tattoos on motorcycles, men wearing Islamic skullcaps, and men wearing sleeveless shirts and shorts. Most people appeared to be conservative. Some demonstrators brought their children.
"In this country, there always was and is the threat of a military coup," a university student said. "I know this because I study history." She said she had voted for an opposition party in the most recent elections, but that that party had since characterized the post-coup assemblies on Taksim as nationalist. "But if the other parties displayed the same stance and were in the same place, everything would be different," the student said. "We would be a united nation. I'm here with my people."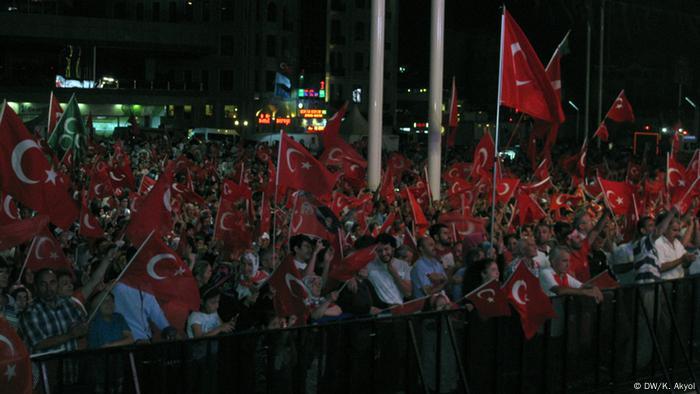 Young and old have been lured to Turkey's squares by Erdogan's call to defend democrarcy
'Security and tranquility'
Protests had been banned for the past three years on Taksim Square, where in 2013 demonstrators had railed against the regime and its plans to turn parts of Istanbul's beloved Gezi Park over to developers. The movement spread nationwide, and more than 20 people were killed in the crackdown. Things have gone more smoothly at these demonstrations, with some participants even posing for photos with the police. Queues for sandwiches distributed by the state stretch 70 meters (230 feet). "These marches must continue," President Erdogan said on Friday.
To facilitate that, public transit is running 24 hours and portable toilets have been put into use. "The danger has not yet passed," Prime Minister Binali Yildirim said on Friday. "The security and tranquility of our citizens has been ensured. But there is no room for complacency."
On one of two televisions on Taksim Square, a presenter read out the national anthem and encouraged the crowd to wave flags, which can be bought onsite for 5 lira (1.5 euro/$1.60). T-shirts bearing the phrase "Sovereignty belongs to the nation" are also for sale, as are headbands that say "Martyrs never die," scarves with Erdogan's name and image, and flag-themed key chains. People chant "God is great" or slogans referencing the flag's red and white.
"This country is ours," an older woman said on Friday. "This land is ours. This flag is ours." She wouldn't give her name, but it was clear that her sympathies did not lie with the coup's plotters: "My Lord didn't side with these traitors. He protected us."
Red carnations were piled in front of a podium, near the listed names of the people killed during the coup attempt. There were two notebooks on the podium to allow mourners and patriots to express their thoughts.
"What is it like to lie in front of a tank?" said 43-year-old Ilhan Atac, who had come to the square with his 4-year-old daughter, explaining what he had written in one of the notebooks. "How brave must one be to use their chest as a shield from bullets? I thanked my martyrs for doing these things. I said that since we are a great nation, we would not fall apart."
On the stage, the master of ceremonies reminded the crowd that people were on city squares across Turkey. He listed the cities, asking "Are you here?" The demonstrators replied: "We're here. We're here until further notice."
Twenty-four-year-old textile worker Selahattin Ergün had been here for the past five nights. "I'm happy to be together with these people," he said. "Kurds, Turks, Zaza, Circassians, and Laz - I'm seeing everyone in unity together here right now."