Since 2015, the DW Freedom of Speech Award (FoSA) has honored media persons or initiatives for showing outstanding promotion of freedom rights, especially freedom of expression and press freedom.
This year, the FoSA was awarded to Nigerian investigative journalist Tobore Ovuorie who has had a decade-long career in journalism. In 2014, she went undercover posing as a would-be sex worker to investigate the widespread human trafficking ring in Nigeria. Following her revelations, Nigeria's authorities launched criminal investigations into those behind it.
DW Director General Peter Limbourg: "It is an honor for me to be able to present the DW Freedom of Speech Award 2021 to Tobore Ovuorie. Ovuorie has met extreme challenges during her investigation into the trafficking of young women from Africa to Europe. She brought the fate of thousands of victims to the attention of authorities, who without the work of this brave journalist, would not have been forced to act."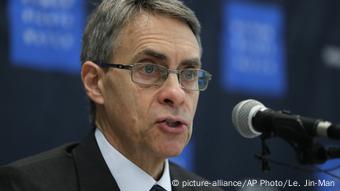 Kenneth Roth
Laudatory speaker Kenneth Roth, Human Rights Watch Executive Director, called Ovuorie "an inspiring choice." He said: "I cannot think of a more courageous journalist. Her passion to unearth the truth, to reveal the plight of the victims and the cruelty of their persecutors, led her to take a leap that very few journalists ever could summon the bravery and sense of duty to replicate."
Antoaneta Vassileva, vice president of the Council of Europe's Group of Experts on Action against Trafficking in Human Beings (GRETA), described Ovuorie's work as "an outstanding example of investigative journalism and human braveness. I am thankful to her passion for justice and high spirit in the darkest moments of her work undercover." Human trafficking continues to be one of the most vicious crimes around the world and many women, girls and men are forced into different forms of exploitation where some of them lose their lives, she said.
In her acceptance speech, Ovuorie highlighted the plight of journalists in Nigeria. "Being a journalist in Nigeria is difficult," she said, "we struggle for an economic basis for our work and fight for access to information. Critical and sophisticated journalism in Nigeria is shrinking." Nigeria was this year ranked 120th out of 180 countries in the World Press Index by media watchdog Reporters Without Borders. The recent Twitter ban in the country has also hindered access to information, further restricting the work of journalists. "This should not be in a democracy," she said. Ovuorie called upon the international community to help put an end to the ban.
"On no account should we let our voice be silenced. We must refuse to conform to dictatorship. That way, we will bring light into darkness and our various societies, communities and countries will become saner, safer and better spaces for us all and generations to come," said Ovuorie. Read her acceptance speech here.