The group calling itself the "Niger Delta Avengers" (NDA) claimed responsibility for a recent attack on a facility operated by US energy group Chevron and the Anglo-Dutch oil giant Shell. Via social media the group issued a "Warning to Chevron" on May 12.
Nigerian army spokesman Rabe Abubakar said on Monday: "This is to confirm the arrest of some suspected members of Niger Delta Avengers," in connection with attacks on Chevron oil facilities.
"We made some arrests over the weekend. They were picked up around scenes of recent attacks in the Niger delta," according to a member of the joint task force involved in security in the region. "It will be pre-emptive at this stage to conclude that the suspects are the militants that bombed the oil pipelines and installations until after investigation," the official told the AFP news agency.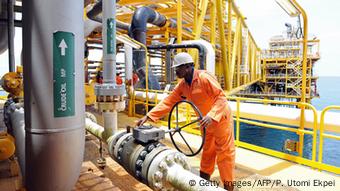 The Total oil installation near Port Harcourt
The attacks claimed by the group have contributed to a slump in Nigerian oil production, reportedly down to its lowest level in more than two decades, from about 1.9 million barrels per day (bpd) to under 1.7 million bpd. Crude sales from the Delta region account for 70 percent of national income in what is Africa's biggest economy.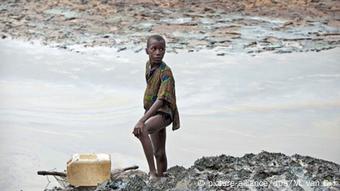 A boy on an oil-stained river bank in Ogoniland
The militants are claiming a fairer share of revenues for locals in the oil-rich southern delta.
'Niger Delta Avengers'
The NDA issued an ultimatum to oil companies in the region via its website:
"To owners and operators of these oil blocs in our region the Niger Delta Avengers is giving you two weeks ultimatum to shut down your operations and evacuate your staff. If at the end of the ultimatum and you still operating, we will blow up all the locations. It will be bloody. So just shut down your operations and leave."
In the same statement, the group also made an appeal to the UN: "To the United Nations, we are not asking for much but to free the people of the Niger Delta from environmental pollution, slavery, and oppression."
Long-standing problems
A number of groups in the 2000s carried out attacks on oil pipelines and kidnapped workers until a government amnesty was declared in 2009.
However, that amnesty program for former rebels as well as the arrest of a former militant commander on corruption charges are being cited in Nigeria as reasons for the renewed attacks.
President Muhammadu Buhari has extended the term of the 2009 amnesty but he also cut funding for the region which was included as part of the agreement with the rebels and canceled contracts to former militants to protect the pipelines they had attacked before the truce.
jm/msh (Reuters, AFP)