The governor of Katsina State, Aminu Bello Masari, told DW in an exclusive interview on Friday that "bandits and not Boko Haram kidnapped the schoolboys from the government science school, and they will soon be reunited with their families."
"All 344 schoolboys have been rescued, and no ransom was paid," Masari told DW shortly after security agencies picked up the boys.
Boko Haram had claimed responsibility forlast Friday's abduction of the students from the all-boys Government Science Secondary School in the Katsina State village of Kankara.
Read more: Kidnapped Nigerian schoolboys freed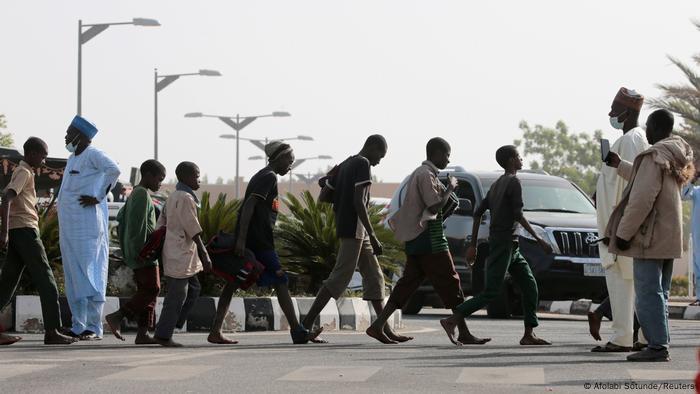 Freed Nigerian schoolboys after being rescued by security forces in Katsina, Nigeria
'No ransom'
Abubakar Shekau, a factional leader of Boko Haram, had claimed earlier this week in a video message that his group carried out the attack because it believes Western education is un-Islamic.
However, experts also said the attack was likely carried out by local gangs, who have staged increasingly deadly assaults in northwest Nigeria this year and could possibly have been collaborating with Boko Haram.
Read more: 'There's a growing dictatorship of disinformation in Nigeria'
Outcry over insecurity
Despite Governor Masari's denial that no ransom was paid for the schoolboys' release, the government had said it was negotiating with the attackers, described initially as bandits, casting doubts on his statement.
Nevertheless, Nigerian President Muhammadu Buhari has welcomed their release, calling it "a big relief to their families, the entire country and the international community," according to a statement from his office.
Amid an outcry against the West African country's government over insecurity in the north, Buhari noted his administration's successful efforts to secure the release of previously abducted students and added that the leadership "is acutely aware of its responsibility to protect the life and property of the Nigerians."
"We have a lot of work to do, especially now that we have reopened the borders," Buhari said, noting that the Northwest region "presents a problem" that the administration "is determined to deal with."
Despite these assurances, Kabiru Adamu, a security analyst, told DW that crimes like kidnapping and weapons proliferation have become rampant, hence the need for all stakeholders to work together and improve on security countrywide.
"Governors of the affected states need to come together, eschew politics and cooperate among themselves in coming up with measures since states are interconnected," Adamu said.
Read more: Nigerian parents urge government to #BringBackOurBoys
Buhari embarrased
The schoolboys' kidnapping piled pressure on the government to deal with militants in the north of the country. It was incredibly embarrassing for Buhari, who comes from Katsina and has repeatedly said that Boko Haram had been "technically defeated."
Armed gangs that rob and kidnap for ransom, widely referred to as "bandits," carry out attacks on communities across the northwest, making it hard for locals to farm, travel or tap rich mineral assets in some states such as gold.
Buhari's administration has been dogged by rising insecurity in the northeastern parts of the country, and rampant attacks on the population by Boko Haram, particularly in Borno state.
Abdulghaniyu Abubakar from a children's rights coalition said the government has the responsibility to protect citizens, lives, and properties.
"Schools are supposed to provide social safety nets, including quality education and bringing up our children. And for any society to achieve this, you must provide adequate security for our schools," Abubakar told DW. This incident is certainly going to affect developments in northern Nigeria."
Calls for tougher laws
Saidu Tudun Wada, a legal expert, said he thinks the laxity in imposing harsh penalties for offenders has contributed to the growing insecurity in northern Nigerian and other southern states where banditry is rampant.
"The security situation in the country is just in reverse gear, unfortunately, because of banditry, insurgence, and kidnappings," Wada told DW.
"There is a need for security agencies to perform their duties more effectively. We have capital punishment in southern Nigeria and life sentence in the north."
"Therefore, the prosecution should do its work, and kidnapping will become a thing of the past," Wada added.
Boko Haram has a history of turning captives into jihadist fighters. If its claims are valid, its involvement in northwestern Nigeria will mark a geographical expansion in its activities.
Read more: Nigeria: President Buhari's war on Boko Haram 'far from over'