German Chancellor Angela Merkel has said it is important for the eurozone to approve a vital second bailout for Greece as the country struggles to implement austerity measures.
"We want Greece to stay in the eurozone," Merkel said on Monday at a joint press conference in Berlin with French President Nicolas Sarkozy. The two leaders held New Year talks about how to stabilize the eurozone debt crisis, boost economic growth and curb rising unemployment.
Sarkozy called for a new European deal to enforce tighter budgetary discipline to be signed by member states on March 1. He called the situation in the eurozone "very tense."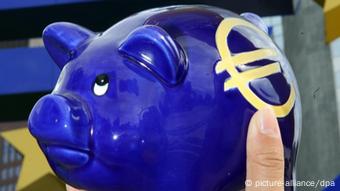 The euro looks shaky at the start of the new year
"We would like to see negotiations on the accord wrapped up in the coming days and have it signed on March 1," Sarkozy said after the talks.
The leaders stress that boosting economic growth is their top priority. They called for European funds to be used to create jobs. They also said they were prepared to consider speeding up payments into the 17-nation eurozone's permanent rescue fund, the European Stability Mechanism, in a bid to bolster confidence.
Merkel added that resolving the crisis would be "step-by-step … there's no single-dimension solution."
Tobin tax
Merkel and Sarkozy also discussed the implementation of a financial transaction tax in the European Union. Disputes over the controversial measures, known as the "Tobin tax," have highlighted some strategic differences between EU leaders.
Sarkozy, who has slipped behind in the polls ahead of the French presidential election in April, has pledged to introduce the tax in France, even if other European partners are not on board.
"We won't wait for others to agree to put it in place, we'll do it because we believe in it," he said on Friday.
While Angela Merkel has expressed her personal support for the tax, she said on Monday that she favored an EU-wide transaction tax, or failing that a eurozone-wide tax
Merkel faces resistance from within her own cabinet over the issue.
The dispute threatens to split the European Union just weeks before a crucial summit scheduled for January 30.
On Tuesday evening, Merkel is to hold informal talks with International Monetary Fund chief Christine Lagarde.
Author: Matt Zuvela, Joanna Impey (AFP, AP, dpa, Reuters)
Editor: Andreas Illmer