Tunisian President Beji Caid Essebsi said at a joint press conference on Friday the deal tackling unauthorized immigration signed Friday would satisfy both Tunisia and Germany. The agreement will allow Germany to deport rejected asylum-seekers back to Tunisia more quickly.
Essebsi promised smoother cooperation from Tunisian diplomats in Germany, stating "measures will be taken in the Tunisian consulates in Germany to help in (rejected asylum seekers') identification."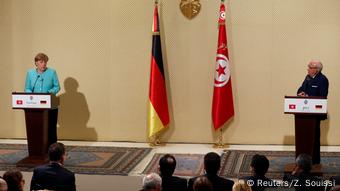 Merkel and Essebsi promised closer cooperation on deportations
As part of the accord, Tunisian officials will clarify any identity verification questions within 30 days. The papers needed for deportation will then be issued within one week. Merkel indicated Germany would assist Tunisia in building the requisite registration system needed for these processes.
"This is good news for us," Chancellor Merkel added.
The accord between Germany and Tunisia follows tension that grew between the two countries after Tunisian national Anis Amri allegedly drove a truck into a crowd at a Berlin Christmas market, killing 12 people. German authorities had previously detained Amri but could not deport him as Tunisia did not provide him with identity documents.
Germany to provide more aid
New German aid to Tunisia, totaling some 250 million euros ($263 million), would be used to promote development projects, create jobs and support small businesses, Merkel said at the press conference.
"The funds are for rural development, small and medium enterprises, but mainly for youths... who especially need job training and employment opportunities," she stated. Tunisia's unemploment rates rest around 15 percent according recent World Bank estimates, with youth unemployment even higher.
The German chancellor also earmarked 14 to 15 million euro (around $15 million) in aid specifically for deported Tunisians. The investment seeks to promote voluntary return.
Beacuse Tunisia is a relatively stable nation, asylum requests by its nationals are likely to be rejected. Merkel estimated that around 1,500 Tunisians in Germany currently await deported.
Migration has become a flash point in the lead-up to Germany's September national elections, and Merkel faces pressure to stem the flow of asylum seekers into the country.
The agreement builds off of Tunisian Prime Minister Chahed's February visit to Berlin, where such the possibility of increased aid and improved deportation cooperation had been initially discussed.
Merkel's visit to Tunisia is part of a two-day trip to North African countries to strengthen cooperation on migration and regional security. She will also meet with her counterpart Chahed to discuss the Mediterranean migration crisis as well as give a speech to the Tunisian parliament before returning to Berlin.
cmb/msh (dpa, AFP)