The government line-up announced by new Prime Minister Binali Yildirim on Tuesday contained few surprises. Key figures, including Foreign Minister Mevlut Cavusoglu, Justice Minister Bekir Bozdag and Interior Minister Efkan Ala will all keep their jobs.
Perhaps the most significant change is the appointment of ruling party spokesman Omer Celik to the role of EU minister, replacing Volkan Bozkir. Bozkir was one of the brokers of a controversial deal with the European Union to curb the numbers of migrants arriving in Europe.
Fikri Isik also replaces Ismet Yilmaz as defense minister. In a relief to markets, the deputy prime minister in charge of economy, Mehmet Simsek, will stay in his post, as will President Recep Tayyip Erdogan's son-in-law, Energy Minister Berat Albayrak.
It was not immediately clear when the new members will be sworn in. However, sources in Erdogan's office said he would chair the first Cabinet meeting in his palace on Wednesday.
New powers
Yildirim made his Cabinet announcement two days after the ruling Justice and Development Party (AKP) elected him its chairman. The 60-year-old replaces outgoing prime minister Ahmet Davutoglu, who was pushed out earlier this month amid a number of disagreements with the president.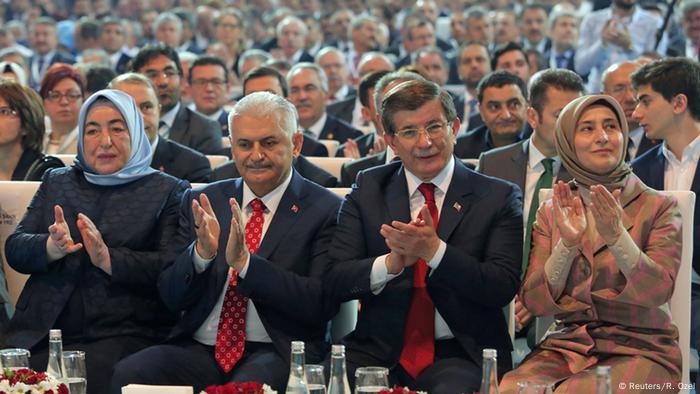 Yildirim with predecessor Davutoglu at the AKP party congress
Yildirim, a trusted Erdogan ally, served as the AKP's transport and communications minister for over a decade. Some observers warn his appointment to prime minister may herald a new era in Turkish politics, with too much power ultimately being concentrated in the hands of President Erdogan. Yildirim has pledged to push through constitutional reforms that would expand the powers of the presidency.
"We will kickstart constitutional work as soon as possible," Yildirim said in his first address to the AKP's regular meeting in parliament on Tuesday.
"It is not only a concern of our president but also a future concern of the Turkish republic."
The Cabinet reshuffle comes as Turkey's government grapples with a number of security threats at home posed by Kurdish militants and the "Islamic State" group. Ankara is also involved in sensitive negotiations with the EU over a plan to stem the influx of migrants. Under a deal struck in March, Turkish citizens may be granted visa-free travel in the EU in return for Turkey taking in irregular migrants deported from Greece.
nm/ (Reuters, AP, AFP, dpa)