Germany launched an investigation Wednesday into an unconfirmed report that Germany soldiers in Afghanistan had used a vehicle with a Nazi-era insignia.
The weekly magazine Stern published a photograph Thursday of alleged members of the German army's elite KSK unit with an off-road vehicle bearing a palm tree and iron cross. The photo is thought to have been taken in 2001.
From Hitler's "Afrika Korps"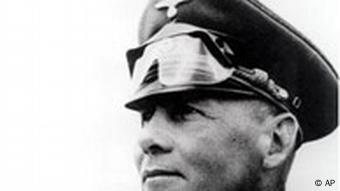 The Nazi emblem in question came from Erwin Rommel's "Afrika Korps"
The symbol resembles the one used by the Nazi "Afrika Korps" under Erwin Rommel, though the original version had a swastika instead of an iron cross, which is a traditional symbol of the German army.
"A few of our guys are stuck in the past and thought it was particularly cool to drive around with Wehrmacht insignia," an unnamed KSK soldier told Stern, referring to the name of the German army during the Nazi era. "I and others found it sickening."
According to the magazine report, the photos were taken at a camp in Oman where German forces prepared for deployment to Afghanistan.
Inquiry on skull photos expanded
Parallel to the newest investigation use of Nazi symbols by some members of the Germany military abroad, a probe over the desecration of human skeletons in Afghanistan has been expanded to include 23 soldiers suspected of posing for macabre photographs, defense ministry spokesman Thomas Raabe told reporters Wednesday.
Another four troops have been suspended, bringing the total number to six, Raabe added.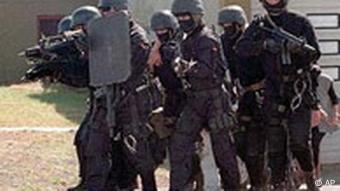 The elite unite KSK, here is training, has been linked to latest incriminating photos
The photographs, which reportedly date back to 2003, show soldiers posing with human remains. They were published last week by the German mass-market Bild and caused outrage in Germany with Chancellor Angela Merkel vowing to punish any troops involved.
The exact origins of the human remains are unknown, though they are thought to date back to the British and Russian occupations of Afghanistan.
Television station RTL then broadcast other images, reportedly from 2004 elsewhere in Afghanistan, which raised concerns that this type of behavior may have been widespread among the 2,800 German soldiers stationed in the war-torn country.