The latest shipment of nuclear waste crossed the border into Germany from France on Wednesday afternoon.
The train had begun its journey on Tuesday evening when it set out from the southern French research center of Cadarache. It is expected to arrive at its destination - a storage facililty in the northern German town of Lubmin - on Thursday.
In the containers are around 2,500 spent fuel rods, that are originally from a research facility in the southwestern German city of Karlsruhe that went offline in 1991 and the research vessel Otto Hahn, which hasn't been used since 1979.
A number of anti-nuclear activists gathered in Saarbruecken on the French-German border to protest against the transport. Several hundred policemen were deployed in Saarbruecken, and other rail services were disrupted.
The transport itself was held up by the discovery of an unexploded bomb from World War II in Saarbruecken goods station. After the device was inspected and made safe, the train was allowed to continue on its journey.
Not as big as Gorleben
Five weeks ago, a similar shipment of nuclear waste was delivered from a French reprocessing plant to a storage facility near the northern German town of Gorleben.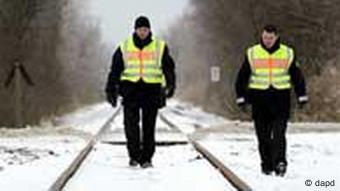 Police are inspecting tracks near Lubmin for sabotage
That shipment was met with massive protests, with nuclear-energy opponents physically inhibiting the path of trains and trucks moving the containers.
Similar resistance is expected on the way to Lubmin. The interior minister of the German state of Mecklenburg-Western Pomerania, Lorenz Caffier, called on protesters to keep their protests peaceful.
Caffier said about 70 demonstrations were expected on the route to Lubmin, but he that they the protests were not expected to be on the scale of those seen during the last nuclear transport, to Gorleben, five weeks ago.
Author: Matt Zuvela, Joanna Impey (AFP, AP, dpa)
Editor: Chuck Penfold