The video, released by Taliban spokesman Zabihullah Mujahid on Wednesday, is the first apparent proof that the two hostages are still alive after being kidnapped on August 7.
Timothy Weeks, an Australian citizen, and his American colleague Kevin King were abducted by gunmen dressed as police near the the American University of Afghanistan, where both men were working as professors.
Shortly after their kidnapping, US Special Operations forces launched a mission, approved by US President Barack Obama, to rescue them. But when forces raided the supposed location of the hostages, they weren't there, the Pentagon said in September.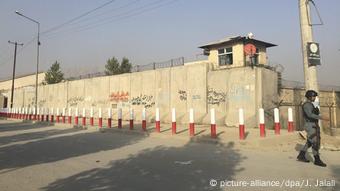 The American University of Afghanistan
Hostage appeals to Trump for help
In the video, which according to Weeks was made on January 1, the two men urged president-elect Donald Trump to secure their release. Weeks said the Taliban is demanding that the US release prisoners at Bagram air field and at Pul-e-Charkhi prison in Kabul in exchange for the release of the two men.
"They are being held there illegally and the Taliban has asked for them to be released in our exchange. If they are not exchanged for us then we will be killed," Weeks said.
"Donald Trump, sir, please, I ask you, please, this is in your hands, I ask you please to negotiate with the Taliban. If you do not negotiate with them, we will be killed," he said.
Foreigners in Afghanistan are constantly at risk of being kidnapped. Last year, the Taliban released a video of another US hostage and her Canadian husband.
blc/ksb (AFP, Reuters)