Germany had spurned countless chances, with their Polish-born strikers Miroslav Klose and Lukas Podolski the main guilty parties, but Neuville popped up to score in the second minute of stoppage time, sliding in David Odonkor's cross.
It was heartbreak for Poland, who had been reduced to ten men in the final quarter hour, and who are virtually out of the tournament after successive defeats.
Germany had their first of many chances in the 21st minute when Philipp Lahm delivered a perfect cross with his weaker left foot but Klose, scorer of two goals against Costa Rica, headed narrowly wide of the post.
As the first half progressed Germany captain Michael Ballack, back after missing the Costa Rica win with a calf injury, got a stranglehold on the match and Podolski missed a glorious chance on the stroke of half-time.
With the goal at his mercy Podolski, the new golden boy of German football, sliced his effort wide of the target.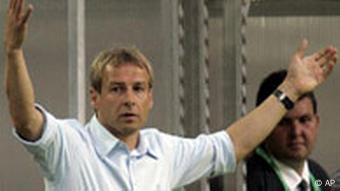 Klinsmann couldn't believe the chances his strikers missed
Germany manager Jürgen Klinsmann, once a prolific striker himself, could not hide his frustration, leaping out of the dug-out in anguish.
Striker profligacy has coach leaping in anguish
Five minutes into the second half it was more suffering as Klose failed to connect with a Ballack cross and his header trickled wide.
Poland were on the ropes but a Ballack back pass almost put in Ebi Smolarek but Jens Lehmann read the danger.
Ballack was then booked for a cynical foul after 58 minutes and must now watch his step.
Polish midfielder Radoslaw Soboloweski did not watch his, collecting a second yellow on 75 minutes for a body check.
Klose and Ballack hit bar before hero Neuville's goal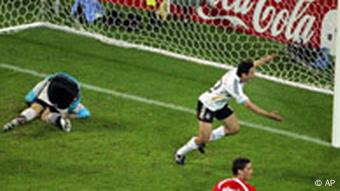 Germany are now assured of a place in the last 16
Germany pushed on and hit the crossbar twice before Neuville took the roof off with a last-gasp strike.
It was a sweet moment for Neuville who was a surprise choice in Klinsmann's World Cup squad ahead of Schalke 04 striker Kevin Kuranyi.
The win was Germany's first over a European rival in the final stages of a tournament in 10 years.