Negotiations to form a Dutch coalition government have fallen through again, almost three months after the election.
Four parties were attempting to form a coalition on Monday evening, but discussions ran aground over immigration policy.
"Despite our talks I have to conclude that the outcome is negative," said Herman Tjeenk Willink, who was appointed by the Dutch parliament to moderate the discussions.
Read: Geert Wilders still 'available' as coalition talks fail
Read: Why the Dutch need three months to form a government
Prime Minister Mark Rutte of the Liberal VVD party won the most seats in the March 15 election, and was negotiating with leaders from the centre-right CDA, progressive D66 and ecologist leftwing GroenLinks to form a four-party coalition.
Geert Wilders' anti-Islam, anti-EU Freedom Party came second in the election, but most major parties had vowed not to work with him.
Locked horns over immigration
The latest round of negotiations fell through over differences between leftwing GroenLinks and the three other parties on Dutch immigration policy regarding North African countries, Tjeenk Willink said.
The three other parties, particularly Rutte's VVD party and the center-right CDA, wanted a strict policy to curb the influx of immigrants into The Netherlands, while pro-immigration GroenLinks wanted the policy to be liberalized.
"I made a final proposal on how to deal with the issue," said Tjeenk Willink, adding it was not accepted by GroenLinks leader Jesse Klaver.
"I'm disappointed that the talks did not succeed," the veteran negotiator said, adding that he needed time to ponder the next step.
Earlier talks collapsed in mid-May due to similar differences on migration issues.
Geert Wilders waits in shadows
GroenLinks leader Jesse Klaver said the distinction between economic migrants and those fleeing war was essential.
"Those who are fleeing war and violence are entitled to protection and shelter," Klaver said in a statement on Facebook.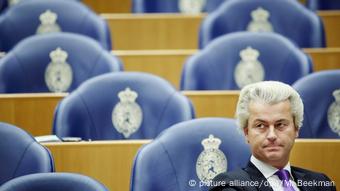 Most major parties have vowed not to work with Geert Wilders, despite his party coming second
"We want to govern, but not at any price. We want to create change. And to always continue seeing the people behind the policy."
D66 leader Alexander Pechtold said he did not blame Klaver, but spoke of a "political inability and lack of political will," saying he wanted to bridge the gap between progressives and conservatives.
Anti-immigrant Geert Wilders seized on the disagreement, saying that only with the help of his party would the Netherlands get a strict immigration policy.
"Now it is time for negotiations with the PVV," he wrote on Facebook, referring to his party name.
It is common in the Netherlands for coalition government negotiations to take an arduously long time. Rutte took 54 days in 2012 to form his coalition, while the record stands at 208 days in 1977.
aw/rc (AFP, AP)