There was some hope last week as the Maoist People's Liberation Army handed over some 3,400 weapons to the Army Integration Special Committee, which is headed by the Nepalese government. Opposition parties and foreign diplomatic missions welcomed the handover.
Ever since the decade-long conflict that cost 16,000 lives and displaced over 150,000 people came to an end in 2006, Nepal has struggled to get back on its feet. Its numerous political parties have struggled for power, as have the dozens of different communities in the country that all want more say in the political process.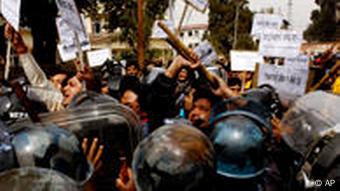 Daily life is often disrupted by protests and mass demonstrations
"On top of this," says Lars Stöwesand from Heidelberg University, "the two biggest groups that fought against each other are now sitting at the same table. Of course, they want to bring an end to the peace process but they haven't managed yet."
Fragile coalitions hinder progress
The fragile coalition governments of the past five years have also hindered the drafting of a constitution, whose deadline has been postponed again and again. The deadline set by the new prime minister is now the end of November.
Political analyst Karl-Heinz Krämer says that the country, which is already the second-poorest in Asia according to the UN's Human Development Index, will continue to stagnate politically and economically if there isn't swift progress in the peace and renewal process in the drafting of a constitution.
However, he is optimistic that the new prime minister might be able to get the job done. Baburam Bhattarai, who studied at New Delhi's renowned Jawarharlal Nehru University, already has a reputation for being an assertive and strong-minded politician with integrity, and as finance minister in Maoist leader Prachanda's government, he was able to demonstrate his managerial skills.
Krämer thinks that the Maoists' former chief ideologist will be considered a good choice by both China, which has always had a close relationship with the Maoists, and India, which Bhattarai - going against his own party line - always insisted the Maoists should cooperate more with.
India versus China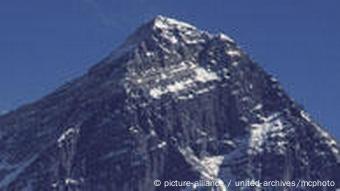 Mount Everest is the tallest mountain in the world
Nepal, which is predominantly Hindu, has always had close links to India in religious, cultural and linguistic terms, but China is now moving in aggressively, says Kramer. "For a long time, China was merely interested in ensuring any opposition on the part of exiled Tibetans in Nepal was suppressed, but that has all changed in the past few years. It is striking that whenever a delegation from India visits Nepal another one from China follows a few days later."
Nepal's 30 million inhabitants have suffered from the country's poor infrastructure, the limited health and education facilities, and rising inflation, but there is some hope there could be light at the end of the tunnel.
Tourism is an area that the government would like to develop. The Buddha was born in a small town called Lumbini in Nepal and the country also boasts the highest mountain in the world, the Everest. With these two assets, Nepal wants to double the number of foreign visitors per year to two million by 2020.
It also hopes to expand its hydro-electric stations to cover not only its own energy needs but also supply energy-hungry India. In future, Nepal does not want to be dependent on development aid.
Author: Priya Esselborn / act
Editor: Manasi Gopalakrishnan