The 22-year-old policewoman, Michele K., was murdered during her lunch-break in Heilbronn in 2007. She was shot in the head near her car by as yet unidentified attackers; her partner was gravely injured and spent weeks in a coma, but survived.
After a string of mistakes and false starts, investigators now appear close to solving the case. The chief prosecutor for the state of Baden-Württemberg, Klaus Pflieger, said on Tuesday that he thinks the perpetrators have been identified.
On Friday November 4, police found Michele K.'s service weapon and handcuffs - as well as her partner's pistol - at the torched residence of two men who had committed suicide. The two had strong links to German neo-Nazi groups.
"It's my subjective conviction that we have now identified the correct group," prosecutor Pflieger told regional public broadcaster SWR. "You don't pass on weapons like that."
It is believed that the duo took their own lives there after committing a bank robbery in the eastern German town of Eisenach. They had been chased by police to their mobile home, where they appear to have detonated pre-laid explosives rather than face arrest.
A 36-year-old woman, Beate Z., turned herself into the police this week and is thought to have been an accomplice of the two deceased suspects. Like Uwe M. and Uwe B., Beate Z. had been living under false names and was linked to other neo-Nazi activities, including a bomb plot. The three are thought to have lived together in a house in Zwickau in the state of Saxony. That building was also blown up, evidently by Beate Z., shortly after Friday's developments in Eisenach, some 180 kilometers (112 miles) to the west.
The three were investigated in 1998 by police after a large stash of weapons was found in their garage. They fled, and the authorities stopped their hunt for them in 2003, since the statute of limitations meant that their alleged weapons offenses could no longer be prosecuted.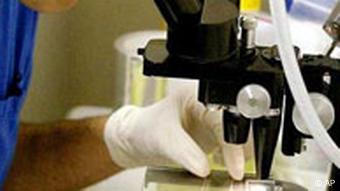 DNA tests gone awry sent police on a wild goose chase
'Not there yet'
The chief of police in Heilbronn, Roland Eisele, said investigators would first have to verify that the service weapons had not changed hands over the past four years, a potentially time-consuming process.
Other officials also elected to play it safe in public at this early stage.
"We are not quite there yet," Baden Württemberg's justice minister, Reinhold Gall, said when asked if the case was closed. "I sought information from the investigators and they are still markedly more cautious. They are also optimistic, but cautious. It's a position I'm inclined to share." Reinhold Gall also said he was happy that investigators had uncovered a lead that appeared very promising.
One reason the authorities might be erring on the side of caution is the checkered history of the four-year investigation into Michele K.'s murder. DNA tests of evidence found at the shooting led to a highly publicized hunt for a genetic footprint that had also been identified at other crime scenes. The elusive suspect was dubbed "the Phantom of Heilbronn."
When the woman in question was eventually located, it turned out that she was an employee of the company conducting the DNA tests. She had inadvertently contaminated the cotton swabs used in lab tests for several investigations.
Author: Mark Hallam (AFP, dpa)
Editor: Michael Lawton
Editor's note: Deutsche Welle is bound by German law and the German press code, which stresses the importance of protecting the privacy of suspected criminals or victims and obliges us to refrain from revealing full names in such cases.