Polls in Catalonia's non-binding referendum on independence from Spain closed at 8 p.m. local time on Sunday, with official results not expected until Monday.
Catalan regional Vice President Joana Ortega told reporters that just under 1.98 million eligible people had cast their ballots by 6 p.m.
The significance of the referendum - which is unlikely to have any direct legal impact on Catalonia's status - is unclear. In late September, Spain's constitutional court suspended the referendum after Spanish Prime Minister Mariano Rajoy filed an appeal to contest the vote, which he had argued was illegal.
However, Catalan leaders pressed ahead anyway, and have indicated that the Sunday vote, though only symbolic, is still an important gauge of support for independence.
"Despite the difficulties, it is now November 9 and we are here to vote," Catalan leader Arturo Mas said as he cast his ballot in Barcelona on Sunday. "The polling stations are open and there are many people who are participating in this important event."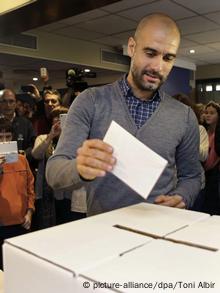 There were some scattered incidents, with doors to some polling stations sealed ahead of the vote taking place. The director of a school near Barcelona refused to hand over keys to officials to allow balloting to proceed.
Bayern coach has his say
Among those taking part in the vote was Bayern Munich coach Pep Guardiola. The former Barcelona boss traveled to his native city to cast his ballot after Bayern's 4-1 win over Eintracht Frankfurt.
"There are a lot of people who want to be heard. When there are so many people who ask for it, there is no law that can get in the way," Guardiola said.
Accounting for roughly one-fifth of Spain's economy, Catalonians have grown increasingly discontented in recent years, with many feeling they pay a heavier price than other Spaniards as the Iberian nation continues to battle a painful economic recession.
Supporters of the referendum contend that an independent Catalonia would lift the financial burden from its 7.5 million inhabitants, while opponents warn that leaving Spain would usher in economic uncertainty and a loss of investors and EU membership.
Rajoy, who like other critics of the vote fears the economic damage caused by Catalonian secession, called on the region's leaders for a "return to sanity" in a speech given on Saturday.
rc/tj (AFP, dpa, Reuters)