Myanmar's government has denied a United Nations human rights investigator access to the region where its Rohingya Muslim population lives.
Yanghee Lee, special rapporteur on human rights, told reporters in Yangon on Friday that she wasn't allowed to visit Rakhine state.
Around 1.1 million Rohingya are located in the western part of Myanmar but without recognition by the government.
Lee's role is to assess the human rights situation in the run-up to the country's general election, set for November.
Officials in Rahkine state said her trip was canceled due to bad weather.
Much of Myanmar has been hit by severe flooding in recent days due to the monsoon season. Western Rakhine state has suffered the highest number of fatalities so far, with at least 55 people killed following Cyclone Komen, which struck the Bay of Bengal last week.
Rohingya Muslims have been dubbed the world's most oppressed ethnic group. Myanmar authorities refuse to give them citizenship and tens of thousands have been forced from their homes due to ongoing violence and persecution.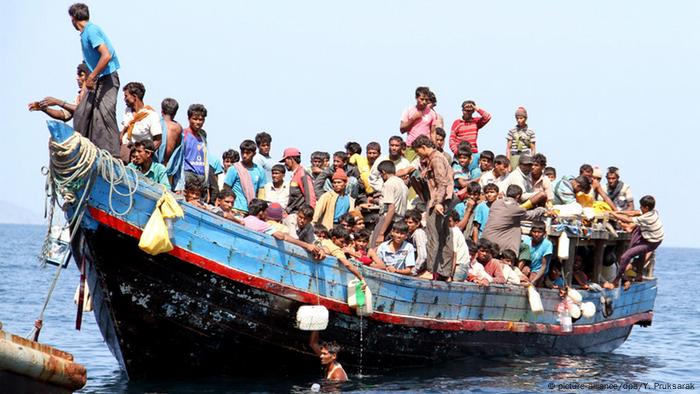 A boat containing dozens of Rohingya arrives in Malaysia after several days at sea
Worsening crisis
Lee has angered Myanmar's leaders by criticizing restrictions on political freedom and demanding improved rights for the Rohingya.
On Friday, she told reporters, "I cannot shy away from continuing to highlight serious human rights violations and make principled but constructive comments."
Lee highlighted the lack of identity documents and voting rights as a "serious concern."
Earlier in the year, she told DW that Rakhine state remained in crisis despite repeated denials by the Myanmar government that it persecutes the ethnic group.
The UN High Commissioner for Refugees estimates that about 25,000 Rohingya have attempted to migrate to neighboring countries by sea between January and March this year.
People traffickers have taken advantage of their plight, often leaving them trapped on boats at sea, while hundreds more have died attempting to reach Thailand, Malaysia and Indonesia.
Also on Friday, Pope Francis described the Myanmar government's treatment of its Rohingya population as a form of "war." Speaking to a group of young people at the Vatican, the pontiff highlighted the need for dialogue to resolve the conflict.
mm/bk (AFP, Reuters)