The 48-year-old man "confessed that he took a bottle filled with petrol ... and threw it into the compound" that serves as the residence of Aung San Suu Kyi, Myanmar police said on their Facebook page.
The Molotov cocktail landed inside the gates of the Yangon property but caused only minor damage to one of the water pipes. Suu Kyi was not at home at the time of the Thursday attack.
Read more: Aung San Kyi's house attacked in Myanmar
Witnesses managed to take pictures of the suspect at the scene, allowing police to track the man down. Authorities said the man was a security worker for a construction company.
Motivated by 'magic' or politics?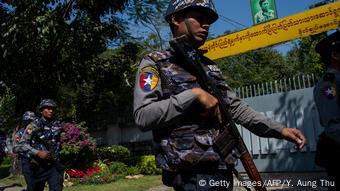 Police set up barricades around the property after the Thursday attack
Many speculated that the attack might be politically motivated and linked with the controversial crackdown on the Rohingya Muslim minority.
After his arrest, however, the man told police he threw the bottle because he had been "cursed by magic." Authorities said they believe the man suffers from mental health problems. Still, the man will face legal consequences for his act, according to the police.
Read more: US diplomat quits Myanmar panel over Suu Kyi's 'whitewashing' on Rohingya
Aung San Suu Kyi did not comment on the attack.
The compound targeted in the firebombing was used by the politician long before her ascent to power in 2015. Suu Kyi spent a total of 15 years under house arrest in the same compound in Yangon, Myanmar's largest city and former capital, as a political prisoner of the ruling military junta.
dj/jlw (AFP, AP)