"When you put six politicians in a room and open the door after half an hour, you could find them arguing and punching each other. But when you put six musicians in a room, only music will come out after half an hour."
Michalis Karakatsanis is speaking from experience. The administrator at the Cyprus Music Information Center (CyMIC) knows firsthand that musical collaboration can bring people together, even across enduring lines of political conflict - such as the Green Line, which since 1964 has formed a buffer zone between the southern, Greek-Cypriot administered area and northern, Turkish-Cypriot administered areas on the contested island EU member state.
On Saturday, June 10, music will bridge that divide when Greek Cypriot and Turkish Cypriot musicians take the stage together in Pafos to perform at the 2017 European Forum on Music. The performance, a collaboration between Karakatsanis' CyMIC and the Cyprus Chamber Orchestra, perfectly reflects the theme of this year's Forum, "Linking Continents - Bridging Cultures," which examines how music can be used as a cultural diplomacy tool.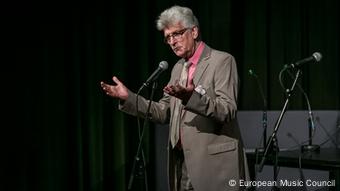 Ian Smith at the 2016 European Forum on Music in Wroclaw, Poland
Cyprus - a continental bridge
For Ian Smith, President of the organizing European Music Council (EMC), it was important to connect the forum's location to its theme. "We've got the bridge over the Bosporus just up the road that is linking two continents - Europe and Asia," Smith told DW, also pointing out that Cyprus is considered to be on the edge of Europe and the Middle East.
Some 114 delegates from over 30 countries as far flung as Russia, the USA and Benin will fly into Pafos, a 2017 European Capital of Culture, to take part in the three-day series of discussions, workshops and networking on how to best use music as a cultural diplomacy tool: a way to bring people together across difference, foster discussion and build mutual understanding.
Or, as Karakatsanis put it, how to use music for "building collaborations and friendships between neighbors, between countries, between ethnicities."
Diplomacy within Europe
The word diplomacy often invokes images of elaborate state dinners with rigid protocol and endless handshakes. But Stef Coninx, a former EMC president who will lead a panel on the European Agenda for Music, a shared musical vision for Europe's future, knows music can unite on a local level - even within a single country.
As the head of International Relations Classical Music at the Flanders Art Institute in Brussels, Coninx helped organize the International Society for Contemporary Music World New Music Days in 2012. The collaboration involved Dutch-speaking Flanders, French-speaking Wallonia, and the Brussels region, and it consequently led to a cultural agreement between Flanders and Wallonia. Coninx is now busy promoting the 2018 Belgium Music Days, which will include partners from Belgium's German-speaking area for the first time.
Coninx believes that music can "get people to start to talk and to listen to one another…to respect each other as a first step" that can lead to further development. "That is the building of bridges within Europe," he told DW.
A Euro-Arab bridge
The Pafos event will also look beyond Europe's borders at how to best strengthen ties with cultural influences considered external to Europe - and even try to change that image.
Kifah Fakhouri will attend the forum in his capacity as Chairman of Administrative Board of the Euro-Arab Youth Music Centre (EAYMC) based in Limassol, Cyprus. The youth-focused initiative - itself an Arab-European institutional partnership - works with musicians ages 15-30 from various Arab and European countries on educational and social music projects.
Past events have included Ethno Cyprus, music camps that explored common cultural identities, and a 500-voice-strong choir gathering in Tripoli that brought together singers of all abilities from around the world.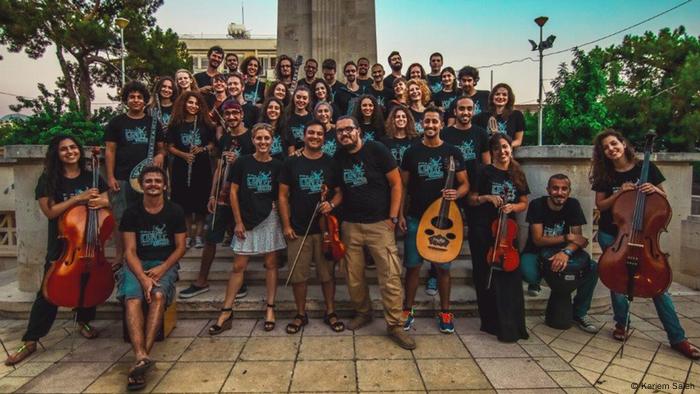 Ethno Cyprus 2016, one of EAYMC's projects, brought together musicians from Cyprus, Croatia, Belgium, Egypt and Jordan
"The idea is not to have professional musicians but to have young people who are willing to understand other people through music," Fakhouri told DW. He thinks the nature of music, where each person addresses the same work, makes it an ideal diplomatic tool.
Fakhouri would like to see Arabic musical influences become more incorporated into Western music through exchange, just as jazz was woven into the Arabic music scene after top American jazz musicians performed in Arab countries as part of the US State Department's 1956 Jazz Ambassadors initiative.
Smith echoed Fakhouri's desire for the fluidity of cultural influences. For the EMC head, success would be the celebration of a European cultural diversity that is "very strongly informed by people whose life journeys start outside of Europe."
Diplomacy or imperialism?
But using music as a diplomatic tool is not all song and dance. Global powers, such as the US and Western Europe, have been accused of cloaking cultural imperialism in the guise of cultural diplomacy.
Smith readily acknowledged Western Europe's reputation as "quite dogmatic and authoritarian," but he emphasized that music diplomacy is "not about imposing Western cultures on Eastern influences" but about bringing people together to exchange best practices.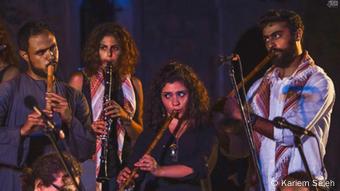 Musicians performing at Ethno Cyprus 2016 music camp
For such exchange to work, Fakhouri explained that all involved partners must treat one another as equals and seek to understand differences. "You might not like [my music], you might think it is bizarre, but at least you are showing that you appreciate my culture. By appreciating my culture, and by me appreciating your culture, we can come to a sort of equal understanding which might help in the future in creating peace."
But, just like any other tool, music can also be used for negative purposes, such as to incite hate. Coninx told DW about his experience hearing a music teacher from the Balkan region describe how music had been used as a weapon during the Yugoslav wars. She said she "could feel how the hate was spread through the music," Coninx recalled. Whether for good or for evil, peace or conflict, Coninx is "convinced that [music] is very powerful."
'You cannot go to war and start singing'
Fakhouri has never experienced any tension or conflict during his work in the EAYMC. In his opinion, music's power is in its ability to bring people face-to-face, as it will do at the forum in Pafos.
However, music alone is not enough to resolve conflicts and achieve peace.
"You cannot go to war and start singing," Coninx said, pointing out that music must accompany other efforts in order to effect lasting change.
And Smith said security must be a government's number one priority. But he pointed out that the dialogue music creates leads to better understanding, more respect for one's neighbors, and less fear.
Music builds mutual trust and enables people who feared another to "come into the room" together, Smith said. And then "at the end of the room is another door that has never been opened." Music carries people to the point where they will say, "Let's go through this door together and see where it leads."