Medecins sans Frontieres (MSF) - Doctors Without Borders in English - told a UN briefing in New York on Tuesday that world leaders were failing to address the epidemic.
"Six months into the worst Ebola epidemic in history, the world is losing the battle to contain it. Leaders are failing to come to grips with this transnational threat," said Joanne Liu, MSF's international president.
"Ebola treatment centers are reduced to places where people go to die alone, where little more than palliative care is offered," she said, calling on international community to fund more beds for a regional network of field hospitals. She also urged countries with biological disaster response capacity to dispatch trained medical personnel to the hardest-hit areas.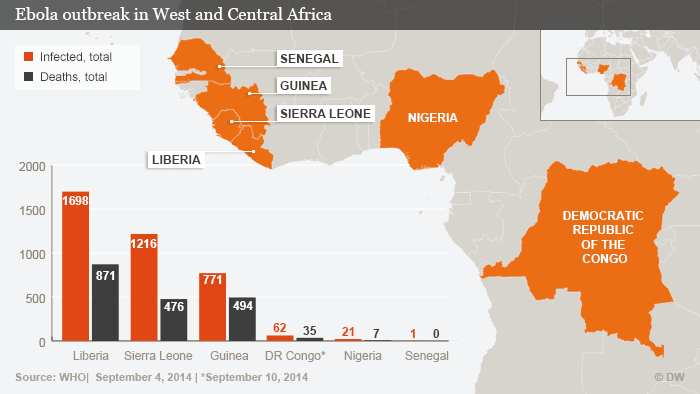 Liberia, Guinea, Sierra Leone, Nigeria, Senegal and the Democratic Republic of Congo have logged cases of Ebola this year
Food security concerns
Earlier on Tuesday, the UN Food and Agriculture Organization warned that restricted cross-border trade and labor shortages in countries hit by the outbreak have raised "grave food security concerns."
The UN has also said food prices could rise significantly in a matter of weeks in West Africa, as quarantine measures will stop many farmers from accessing rice and corn fields during the harvest season.
The Ebola outbreak has killed 1,552 people and infected 3,062, according to the latest figures released by the World Health Organization (WHO).
At the current rate, the WHO fears it could take six to nine months to bring the outbreak under control, by which time over 20,000 people could be affected.
hc/msh (Reuters, AFP, AP)