While journalists in Beijing, Shanghai, or Guangzhou fear the reaction of the government for critical reporting, their colleagues in Hong Kong can conduct their work with a relatively high degree of press freedom. But these freedoms now seem to be under attack, according to new reports from Chinese journalists and international organizations alike.
A 'watershed year'
The state of press freedom in Hong Kong is in real danger, according to the International Federation of Journalists (IFJ). Three journalists, who wished to remain anonymous in the report due to fears of reprisals, said 2014 was a "watershed year" for press freedom in the city. The report states that a lack of editorial independence prevails in the firmer British colony, adding that the influence from Beijing "renders one speechless, as it is simply raw and undisguised."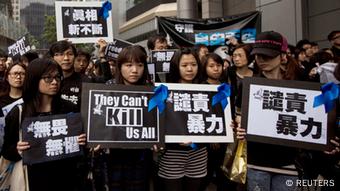 The state of press freedom in Hong Kong is in real danger, according to the International Federation of Journalists
"Some Hong Kong journalists have received direct and indirect threats from mainland Chinese," said Seranade Woo, a program director at IFJ. Especially since the pro-democracy "Occupy" movement gained momentum last fall, the situation of the media in the city has become "deeply concerning."
'Tea' with state security
Journalists have received threatening phone calls, says Woo. Some reporters were even invited to have tea and snacks with mainland Chinese security authorities. Woo also said that during these "tea" meetings," journalists were either asked to write very little or nothing at all about the "Occupy" movement or were questioned about how they were planning to cover the issue. Many were also asked to report more often and in-depth about the rival movement, widely regarded to be pro-Beijing.
In addition, the IJF observed that media companies were placed under extreme economic pressure from Beijing during this time. Small newspapers and media companies were particularly affected. According to Woo, "important advertisers suddenly jumped ship. This could be linked to the fact that these independent media outlets did not want to follow the 'directive' from Beijing."
Acts of intimidation
Hong Kong journalist Annie Cheung was also invited to 'tea.' Security officials from the mainland made a special trip to Hong Kong just to meet with her, says Cheung. "As a rule, they threaten you with everything that is important to you as a journalist, such as not receiving entry permits, or telling media enterprises that they should no longer expect to receive business partners from the mainland."
These intimidation practices seem to pay off for Chinese authorities. "Last year's coverage of the 'Occupy' movement is the best example for how un-critical and un-free the Hong Kong Press has become," says Cheung. "This one-sided reporting, specifically of the rival movement, is clearly linked to Beijing's influence." Only a few media sources remain who dare to support the "Occupy" movement, Cheung added.
Attacked with meat cleaver
On the Reporter's Without Border's Press Freedom Index, the former British colony was still in 18th place in 2002 – only one position behind the United States. In 2014, Hong Kong ranked 61 in the index – this time, next to Mauritania and Senegal. Even before the start of the Occupy protests, journalists were already being attacked.
Reporter Kevin Lau was seriously injured after being attacked with a meat cleaver in February of last year, sparking an outcry and demonstrations throughout Hong Kong. As the former chief editor of the liberal newspaper, "Ming Pao," the assault on Lau is seen by many as an attack on the freedom of the press as well. "Among the journalists of Hong Kong, he is someone who doesn't mince words and doesn't bend to the pressure of media censorship," says Woo. "This (attack) could not have been a coincidence."
Journalists were asked to 'write very little or nothing at all about the "Occupy" movement'
A 'deplorable' status
In mainland China, the press has also fallen under more pressure in recent years. "Since Xi Jinping became the President of China in 2013, the situation has consistently deteriorated," writes the IJF in its report, adding that freedom of speech and of the press were in "deplorable" conditions as of 2014.
Moreover, Chinese authorities also tried to influence local editorial bases of international media outlets. German journalist, Angela Köckritz, witnessed this first hand. After reporting on the Hong Kong protests as a China correspondent for the German weekly newspaper "Die Zeit," Köckritz's Chinese assistant, Zhang Miao, was arrested. Then Köckritz herself was threatened so severely that she left China as quickly as she could. Her assistant Zhang Miao is behind bars.
China's censors recently launched a new campaign which led to a massive disruption of Virtual Private Network connections (VPN). Many people in China use these services to bypass the so-called "Great Firewall" to access blocked websites. Due to these VPN disruptions, it is nearly impossible for Internet users in the country to access Facebook, Twitter, and other blocked websites.