Nepal cut back on helicopter flights Sunday because most stranded trekkers had already left the area. The October 14 snowfalls and avalanches, during what is normally the peak late-summer season along the 220-kilometer (130-mile) Annapurna hiking circuit, killed 39 Nepali guides and foreign tourists.
"There are 19 people missing, but the rescue operation is more or less in its last phase for now," Ramesh Dhamala, of the Trekking Agencies' Association of Nepal, said on Sunday.
The October 14 snowstorm was triggered by Cyclone Hudhud in neighboring India, and is the second major disaster in Nepal this year. In April, an avalanche killed 16 guides on Mount Everest.
'Still missing'
On Saturday, search parties picked up at least 50 of the still-missing hikers from the area around the track, bringing the total number of rescued walkers to just under 400. Troops were deployed to search the route on foot while several helicopters were sent to fly over more rugged circuit terrain.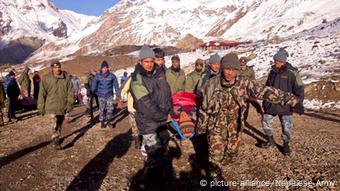 Rescuers found several injured people
"A New Zealander and a Nepali were rescued in Manang district," Devendra Lamichanne, the chief district officer of Manang, said on Sunday. "A total of 22 army personnel with the help of locals are searching the Thorong La region for 11 people who are still missing. Three Nepalis, four Canadians, three Indian and a Japanese trekker are still missing. We can't say anything about their condition so far."
Following last week's tragedy, Nepal's prime minister, Sushil Koirala, announced plans to set up a weather warning system across the country, which is a popular destination for foreign hikers and climbers. On Sunday, authorities closed a section of the Annapurna circuit.
mkg/tj (dpa, AP)