Moscow was covered in thick, noxious smog from raging wildfires on Friday, with Muscovites urged to wear surgical masks and workers sent home as smoke seeped into offices and even underground metro stations.
Air pollution has surged to five times normal levels in the Russian capital, which is home to 10.5 million people. Famous landmarks like the Kremlin towers or the onion domes of Orthodox churches were barely visible from a distance. The weekly changing of the guard ceremony at the Kremlin on Saturday has been canceled.
"I woke up this morning, looked out of the window and saw a monstrous situation," Russian President Dmitry Medvedev said during a visit to an ambulance station on Friday.
"We all want this heat wave to pass, but this is not in our hands. It is decided above," he added.
The great escape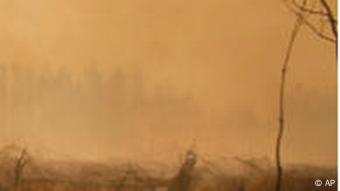 Temperatures of up to 38 degrees Celsius have exacerbated the fires
Travel agents say all package holidays going abroad for the coming weekend have been snapped up by Moscow residents desperate to escape the smog.
Dozens of flights headed to Moscow's Domodedovo Airport had to be diverted to Vnukovo Airport on the other side of Moscow, to St. Petersburg or to Kazan.
Germany has closed its embassy in Moscow for the time being, according to the Foreign Ministry, which also recommends avoiding all but essential travel to the Russian capital and its surrounding areas. A decision about whether the embassy will reopen on Monday has yet to be taken.
Mammoth effort
For the past month, Russia has been suffering its worst heat wave in a century. Forest and peat bog fires have killed 52 people and left 3,500 people homeless as entire villages, made up largely of wooden houses, burnt down.
Despite a huge effort involving 160,000 firefighters and volunteers, the fires around Moscow are spreading. The size of peat fires in the region almost doubled from 37.5 hectares on Thursday to 65.7 hectares (162.3 acres) on Friday, according to the regional Emergencies Ministry.
The total area ablaze in Russia, however, is down slightly at 179,600 hectares, according to the Emergencies Ministry, with firefighters putting out more fires than were appearing for the first time since the fires started.
Author: Nicole Goebel (Reuters/AFP/apn)
Editor: Martin Kuebler