Hundreds of thousands of Egyptians have been taking to the streets for over a week to protest against the draft constitution and a decree issued by President Mohammed Morsi.
Morsi made a public speech late Thursday (06.12.2012), but his concessions were far less than demands made by demonstrators. Shortly after his televised speech, shouts of "get out, get out!" and "murderer, murderer!" could be heard. Similar calls were made before former Egyptian leader Hosni Mubarak was driven from power.
Morsi said the brutal attack on the protesters on Wednesday was the result of a "conspiracy" designed by foreign powers and violent members of the opposition. It was an argument that Mubarak and the military council that took power immediately after Mubarak's ouster had used to account for violence against civilians.
Statements from witnesses as well as video footage and other indicators, however, left little doubt that the Muslim Brotherhood began the attack. In the escalation that followed, both sides resorted to more violent measures.
Invitation to dialogue
Morsi warned demonstrators that even peaceful protests would only be allowed if they did not harm business, hinder traffic or endanger property. The president said he intended to take a stiff line against any breaches of those guidelines.
For demonstrator Karim El-Beheiry, the situation was clear: "We have to end his presidency. If we don't stop the regime, we will all die. He wants to turn Egypt into a new Iran."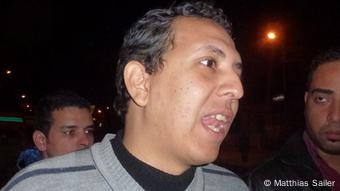 Karim El-Beheiry is finished giving Morsi chances to dialogue
In his speech, Morsi invited all political parties to a dialogue in the Presidential Palace. He said he intends to hold fast to a planned referendum on the new constitution on December 15 as scheduled. He added that he does not plant to annul decree he made to put his decisions beyond the prevue of the judiciary.
In his speech, Morsi demonstrated willingness to discuss one of the decree's highly criticized article that gave him "power to take any necessary measures to protect the revolution, the unity and national security of the country."
Opposition members said in recent days that they were only willing to start a negotiations with Morsi after he repeal the entire presidential decree. For El-Beheiry, after the violence on Wednesday, even greater concessions on Morsi's part would not suffice: "Before all this happened, we could say 'you can come back,' but now we do not have any choice. We do not have a reason for him to stay."
Resignations put pressure on Morsi
Morsi's offer to meet the opposition could be seen as a stalling tactic. If the situation escalates further even the constitutional referendum, planned for next week, could be in danger. Numerous political parties and other groups have already called for mass demonstrations for Friday.
Additional pressure is coming from former presidential candidate Abdel Moneim Abul Fotuh, who said he holds the president responsible for the escalation of violence and has demanded Morsi retract the decree.
The reaction of the National Salvation Front's Mohamed El-Baradei will play a decisive role. But press conferences alone will not bring about change, said protester El-Beheiry. Although he said he thinks El-Baradei is a good person, he also thinks the former diplomat should be with the people on the streets.
"If someone wants to stay in the office and make an appearance on television, fine. But then don't say that you're speaking for the revolution," El-Beheiry said.
Pressure on Morsi is also increasing from within his own ranks. The past days have seen a wave of resignations from top government positions, including Rafiq Habib, deputy head of the Muslim Brotherhood's Freedom and Justice Party. Habib is Christian and was an important Morsi supporter. Several Morsi advisers have also turned in their resignation, including the president of the state broadcaster, Essam El-Amir.
Morsi could suffer his worst setback yet should dialogue with the opposition. Vice President and Justice Minister Ahmed Mekki is said to be considering handing in his resignation if an agreement cannot be reached.