Morocco's ruling Islamists have won the country's parliamentary elections, official results showed Saturday. Some 43 percent of the North African kingdom's 15.7 million eligible voters cast their ballots in Friday's parliamentary vote, which was only the second election since constitutional reforms were instated to quell the street protests that erupted during the 2011 Arab Spring uprisings.
The moderate Islamist Justice and Development Party (PJD) won 125 of the 395 seats in the Chamber of Representatives, whereas the Party of Authenticity and Modernity (PAM) came second with 102 seats, according to the country's Interior Ministry.
The conservative Istiqlal (Independence) Party has come in third with 31 seats, Interior Minister Mohammed Hassad told reporters. This means no party will win a clear majority, setting the stage for a ruling coalition.
So far, the PJD's signature achievement is the passage of a controversial reform of the retirement system while following a relatively liberal economic policy.
"Today democracy won," Prime Minister Benkirane said as the results started to come in. "After leading the government for five years, after implementing reforms, after its achievements, after carefully managing the budget and reforms with the retirement fund ... after widening health care coverage, after all of this - thanks be to God - today, the Moroccan people have given the PJD a victory."
Islamists gaining strength?
Some parties have fielded ultra-conservative Salafists, in a sign that Islamists are becoming a feature of Moroccan politics.
The PAM poured enormous resources into a campaign criticizing the government's economic record as "catastrophic" and pledged to roll back the "Islamization" of society and legalize cannabis.
The government said the vote was fair, though there have been allegations of irregularities from all sides. PAM spokesman Khalid Adennoun told reporters his party had filed "50 complaints" of voting irregularities in the port city of Tangiers.
Local media also reported a violent incident in which an Islamist candidate was attacked and wounded outside a polling station in the capital, Rabat.
The religious PJD came to power in 2011, months after massive street protests prompted concessions from Morocco's monarchy. A new constitution transferred some of the king's powers to the elected parliament, at a time when autocratic regimes were falling in Tunisia, Egypt and Libya.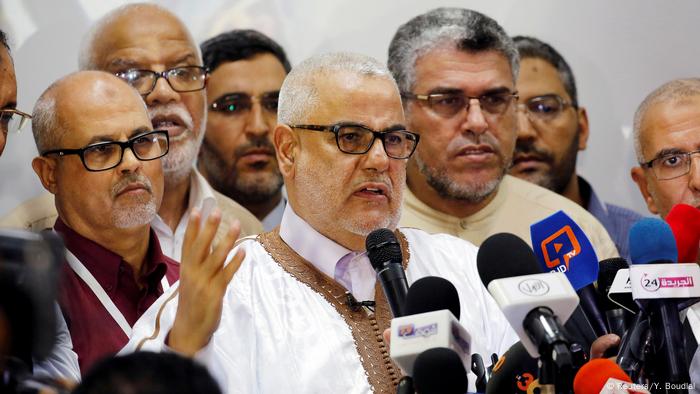 Prime Minister Abdelilah Benkirane's PJD won the 2011 election, and he was appointed premier by the king. In five years, he has pushed economic reforms to reduce the deficit and tackle subsidies
jar, shs/rc (AFP, dpa)