There were 142 recorded criminal complaints filed after right-wing incidents targeting Germany's main political party offices or their politicians in 2016, more than ever before. That's according to figures collated by the German government in response to an official question from Martina Renner of the left-wing Die Linke party.
The definition is broad, including anything from physical attacks to non-violent incidents, such as ravaged offices, swastikas splattered across campaign posters or fecal matter left in a politician's mail boxes, or just particularly offensive "trolling" online.
Politicians who are advocating for pro-refugee policies and who are active against right-wing extremism were more likely to fall victim to such attacks, the report specifies.
Martina Renner told DW that the report shows an escalation of right-wing violence, arguing that the right-wing Alternative for Germany (AfD) party's surge might have played a role.
"Partly responsible for this is the dissolution of social boundaries, propelled by the AfD. If someone is portraying 'do-gooders' and the Left as the enemy, they are encouraging people to act violently", she said. "Gutmenschen" - the German term for do-gooders - has become a term used in right-wing circles to mock or criticize left-wing idealists.
While the report by the federal administration cited a record number of right-wing attacks, it also stated that there was no widespread national trend of growing efforts to intimidate politicians, though there were multiple attacks against the same politician in some regions.
Not just left-leaning parties attacked
Only attacks on politicians representing parties currently in Germany's national parliament were included in the report: leftist Die Linke, conservative CDU, the center-left SPD and the ecologist Greens. Die Linke suffered the highest number of incidents - 59, while chancellor Angela Merkel's conservative CDUwas next in line with 35. This marks a change from previous years, when left-leaning parties were the clear focus of right-wing extremist's offenses. This might be explained in part by Merkel's involvement in 2015's refugee arrivals, which have made the chancellor - and, by proxy, her party - an obvious target for nationalists.
According to rough estimates by tagesschau.de, there were close to 700 right-wing attacks against politicians and their offices between 2010 and late 2016.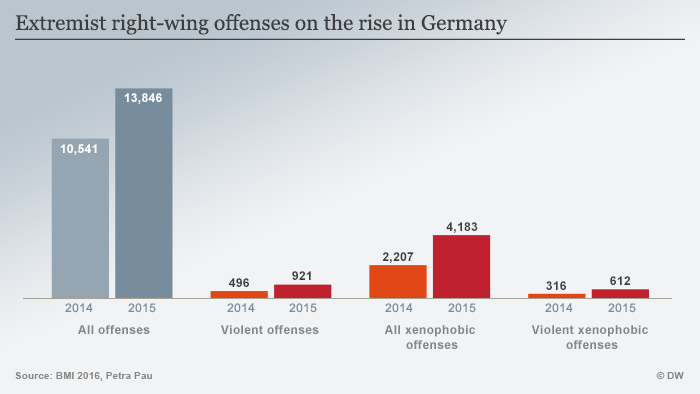 mb/msh (epd, KNA)