The build-up to this year's tournament has been marred by reports of racism in Russian football, with the anti-discrimination FARE Network reporting 80 discriminatory incidents over the past season alone, including 19 racist chants - a significant increase on previous years.
In one high-profile incident, French players Paul Pogba, N'Golo Kante and Ousmane Dembele were racially abused by Russian fans in a pre-tournament friendly in Saint Petersburg in March.
Whether abandoning matches, imposing financial sanctions, organizing player walkouts or handing down supporter bans, there is no easy answer to racism. But former Germany and Schalke striker Gerald Asamoah, who was himself a victim of racist abuse during his playing career, believes the first step is to talk openly about it.
"As footballers, we can be role models by speaking openly and honestly about it," he said, speaking at the 2018 Global Media Forum in Bonn, hosted by DW. "But it's equally important to have the courage to speak out and react if you see or hear racism in a stadium and say: No, that's wrong."
Born in Ghana, Asamoah, 39, made 279 Bundesliga appearances for Schalke 04 between 1999 and 2011 and was part of the Germany team that reached the World Cup final in Japan in 2002 and came third in 2006 – Germany's "home" World Cup which came to be known in this country as the Sommermärchen, or summer fairy tale.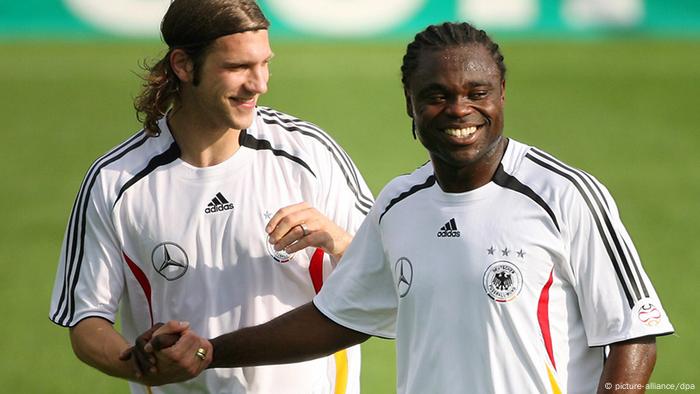 Asamoah (r.) was part of the German national team during the World Cup 2006
The end of the fairy tale
But just two months later, he was the victim of racist abuse at a German Cup match in Rostock when home fans made monkey noises whenever he touched the ball.
"It really hurt," he told DW. "After being part of the team during the Sommermärchen, I thought I'd finally been accepted in Germany. Had it all been forgotten just two months later?"
When Kevin-Prince Boateng was racially abused while playing in a friendly match for AC Milan in Italy in 2013, he left the pitch in protest, accompanied by his teammates.
Ahead of the World Cup in Russia, Nigerian defender William Troost-Ekong has said the Super Eagles would also consider walking off should any of their players be subjected to racial slurs, while England head coach Gareth Southgate has said that wouldn't be an option for the Three Lions.
"It's a decision that each person has to make for themselves," Asamoah said. "Of course walking off would be send a strong message but we also have to ask ourselves: Do we really expect players to walk off in a World Cup match after working so hard for so many years just to get there?
"The main thing in Kevin-Prince's case is that the whole team went with him. Had they left him alone, that would have sent no message. But going as a team was a great signal and I have a lot of respect for that."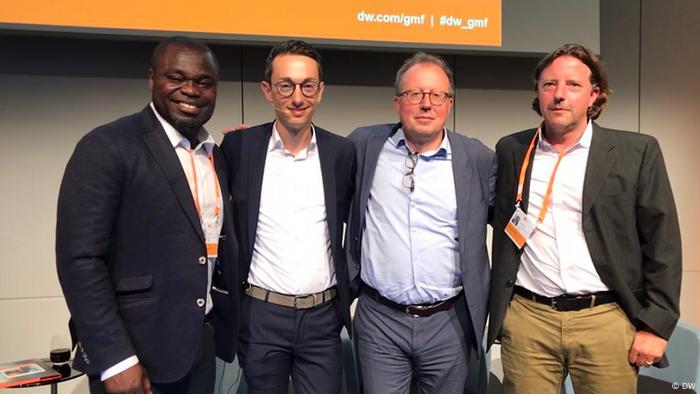 Gerald Asamoah (Schalke 04), Joscha Weber (DW), Patrick Gasser (UEFA) and Christoph Ruf (Der Spiegel)
'Racism and discrimination are societal problems'
At the World Cup, FIFA will be implementing a new three-step procedure whereby referees have the authority to stop, suspend or even abandon a match in cases of discrimination or racism from the stands.
Patrick Klaus Gasser, head of UEFA's Football and Social Responsibility Unit, says huge progress has been made in tackling racism in the game and has faith in the new system, but believes there is only so much that football can do.
"Racism and discrimination are societal problems," he said. "We can kick racism out of the football arena but it won't solve the problems we have in society. Football can make a contribution, and we are, but it has to come from all sides."
Racism in football isn't limited to Russia, either. From anti-Semitic stickers in Dortmund and Leipzig to neo-Nazi chants and KKK banners in Cottbus, incidents in recent seasons have shown that it's still a problem in German football too – something that doesn't surprise football culture expert and author Christoph Ruf.
"We have a right-wing party represented in parliament, voted for by 15-20 percent of the population, which means a significant number of people have such attitudes," Ruf told DW. "Racism is clearly not taboo."
- Read more: 'Not a neo-Nazi club': Energie Cottbus supporters battling right-wing image
Back in Rostock, the referee asked Asamoah if he should stop the game in response to the chants, and at halftime, then-Schalke coach Mirko Slomka offered to substitute him. But the striker insisted on playing on, and was ultimately involved in seven of Schalke's goals in a 9-1 win.
"I carried on, but the disappointment sat very deep," he said. "How could people in 2006, just months after the World Cup, be so backwards that they make monkey noises?
"I decided to continue to show them that I can play well even despite such negativity. If I had been substituted, then the racists would have won."