President Horst Koehler has "approved in principle" a proposal by Defense Minister Franz Josef Jung to introduce the new military honor, the presidential spokesman said Thursday, March 6.
Germany over the last half a century has awarded military decorations for special achievement, length of duty and for tours lasting over 30 days, but no medals for bravery have been given since World War II.
There was no word as to when the new medal would be introduced, what it would look like or what the criteria would be to receive it.
No plans to resurrect Iron Cross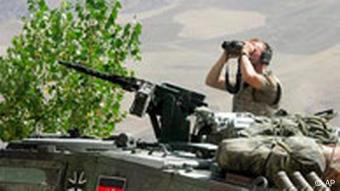 The Iron Cross, seen here next to the German flag, is the Bundeswehr's official emblem
The defense ministry, however, said on Thursday that it would not resemble the Iron Cross -- a wartime decoration introduced by Prussian Emperor Friedrich Wilhelm III in 1813. The symbol was later adopted by the Nazis, who combined it with a swastika.
According to the Frankfurter Allgemeine Zeitung, conservative parliamentarian Ernst-Reinhard Beck had recommended modeling the new medal on the Iron Cross. Beck, a member of Angela Merkel's Christian Democratic Union, is also head of Germany's army reservists association.
"We should reclaim the positive side of this symbol now that the war has been over for more than 60 years and that the Bundeswehr has, over half a century, established a tradition which has nothing to do with the Nazi era," said Beck.
He conceded that the Iron Cross is associated with the world wars but said it could also serve as a "symbol of hope."
The design is still used today as the German military's national emblem and appears on aircraft and tanks.
Defense ministry spokesman Thomas Raabe said there was no thought of bringing back the Iron Cross, "not only because of its Third Reich connotations, but because it was awarded for war service and we are not a nation at war."
Medal plan meets opposition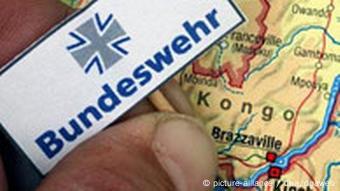 Some 9,000 German troops are stationed abroad
Some left-wing politicians have spoken out against introducing any kind of bravery medal for soldiers.
"German history has shown us that whenever soldiery was celebrated in society with monuments and honors, it was often a harbinger of Germany's involvement in wars," said Paul Schaefer, a defense policy spokesman for the Left party.
A defense expert from the Social Democratic Party, Rainer Arnold, told the Friday edition of the Märkische Allgemeine Zeitung that a military honor shouldn't be reduced to courage alone. He added that he didn't have anything against rewarding soldiers for special achievements where bravery was also displayed, but that these types of medals already existed.
The proposal for the medal comes as Germany's participation in international peacekeeping mission has increased in recent years. It currently has 9,000 troops stations abroad in 10 separate missions.