Following a deadly week in the Mediterranean, the EU assembled an emergency summit to create a comprehensive policy on the migration crisis on Thursday.
Ahead of the meeting, German Chancellor Angela Merkel said saving people's lives had to "the most important point," adding that she hoped leaders would agree to a plan on how to move forward within a few days.
"We still have a lot do," she said, adding that leaders needed to discuss how to fight smugglers as well as the root causes of the migration crisis.
EU Council President Donald Tusk told European leaders "to agree on very practical measures," including "strengthening search-and-rescue possibilities, by fighting the smugglers and by discouraging their victims from putting their life at risk, while reinforcing solidarity.
The EU Commission, the bloc's executive arm, has considered the idea of an UN-backed military mission against smugglers, but legal hurdles have impeded its progress. However, that may change during the summit.
'War on smugglers'
EU Commissioner for Migration Dimitris Avramopoulos declared war on human traffickers at a news conference in Malta held shortly after a funeral for the 24 migrants who died at sea last week.
"We will take action now… Europe is declaring war on smugglers, and the union will collaborate with international partners," Avramopoulos said.
The EU commissioner's statement comes a day after Italian Prime Minister Matteo Renzi proposed "military intervention" as a viable option to tackling the crisis in the Mediterranean.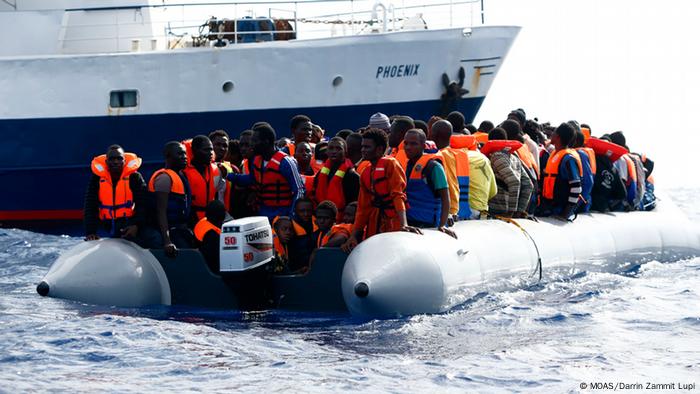 Italy continues to take the brunt of rescue missions, rescuing 200 migrants on Thursday alone
Confronting the EU's action plan
Libya will "confront" the EU if it decides to unilaterally launch a military attack against human traffickers in the country, Mohamed al-Ghirani, the National Salvation Government's (NSG) foreign minister, said in an interview with the Times of Malta published on Thursday.
Al-Ghirani said his government repeatedly offered to help the EU with migrants leaving its shores for Europe but its proposals were consistently turned down.
"We have been doing our best to get Europe to cooperate with us to deal with illegal immigration but they keep telling us we're not the internationally recognized government," al-Ghirani was quoted as saying.
"You cannot just decide to hit. Let's say you strike a particular site, how will you know that you did not an innocent person, a fisherman? Does Europe have pinpoint accuracy?"
The Islamist-dominated NSG in Tripoli rivals the internationally-recognized government located in eastern Libya headed by Prime Minister Abdullah al-Thinni.
However, al-Ghirani is not the only one to voice criticism of the EU's plans for military action as migrant experts have criticized the plan as "militarizing a humanitarian crisis."
ls/sms (AFP, AP, dpa, Reuters)